When you first see the 2,600sq ft lake house in Riverside, Texas, it looks like a glass box floating on the lake. The clients, a pair of Houston-based lawyers, had approached architect James Evans with a private, 26-acre lake property and a source of inspiration – the Mies van der Rohe-designed Farnsworth House, which sits on a frequently flooded plain.
The clients already had a home on the property but wanted to be closer to the water. Evans came up with a cantilevered design that positioned the house over the lake itself, allowing the water to be part of the experience, from every angle.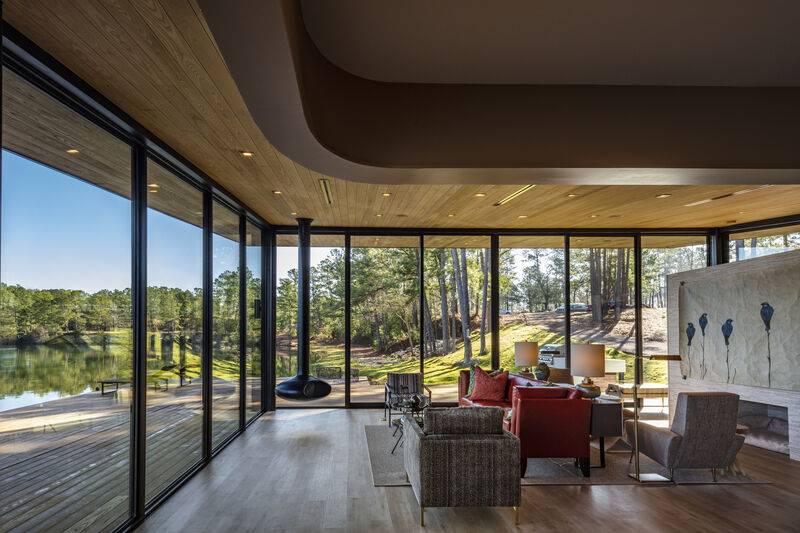 "The setting for this house is quite unique. There's complete privacy, so it gave us the opportunity to create a house almost entirely of glass – approximately 65 percent of the exterior is glass," says Evans.
The property features three spring-fed quarry lakes, surrounded by forest. The home includes an open living area, a library that could double as a second bedroom, and a master suite. Floor to ceiling window walls and sliding glass doors open directly to the view, the outdoor living area, and the water itself.
"When you have a site like this, you have the ability to really embrace the natural beauty and have a house that fits into the location and takes advantage of it. The glass, the windows and doors, make this project such a unique part of the landscape," says Evans.
Performance was a key element in the design of the home. Summers in Texas can get quite hot, and Evans considered not only the cooling system for the house, an innovative geothermal system that takes advantage of the cold quarry waters, but also how to reduce heat gain in a home with so much glass. Selecting windows and doors that would meet his energy requirements for a highly efficient building envelop helped him achieve goals for a lower cost of ownership for the homeowners and a reduced environmental footprint.
The result is a beautiful – and comfortable – floating glass pavilion that provides an immersive natural experience, ample entertaining space, and easy access to the lake and outdoors.
"In this house, we're using the glass as basically infill between the floor and the roof," says Evans. "Because we have an inverted or hybrid butterfly roof, the roof raises at each end, and we wanted the glass to follow the line of the roof. That starts as 10 feet tall at the bedroom and rises to just over 12 feet in height in the living room. Not a lot of systems can do that."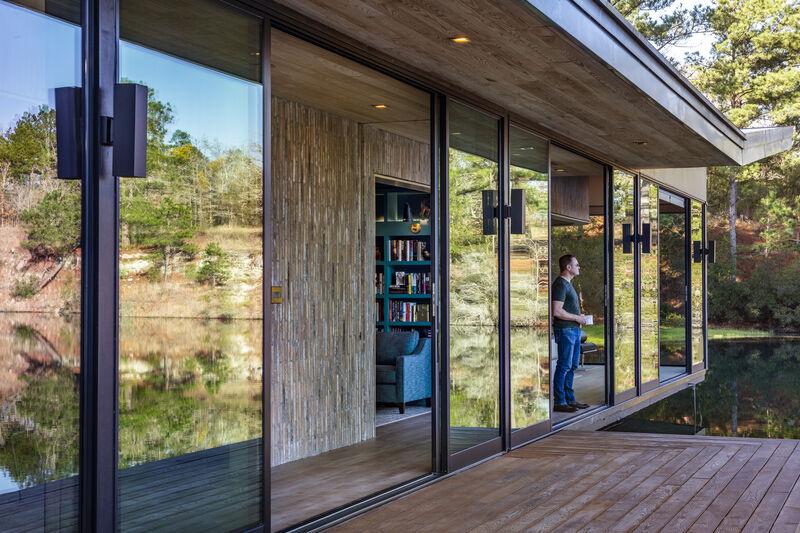 One goal of the project was to eliminate the boundaries between the indoors and outdoors of the home, to allow the homeowners to fully enjoy their property. Design features, such as the ceiling planks and vertical brick façade run from the indoors to the outside to visually connect the spaces. Evans says, "The glass walls mean that when the brick runs from inside to outside, or the ceiling material is going from the inside to outside, you're making that line as thin and minimal as possible. That's where you get that unbelievable effect of not quite knowing where the border is between the outside and the inside." "We were looking for large expanses of glass, large sizes for different elements, and we needed that glass to be operable," Evans explains. "Those things together make it feel like you're living outside. In this house, if you open up all the sliding doors, you're effectively outside, like an open-air pavilion."
Sponsored by: