Instead of a business plan, a network, or a specialty, Max Levy, FAIA, started his firm in 1984 with an idea: he would take on just one or two commissions at a time and devote an unusual amount of attention to each one. Good work begets more work, and this approach has led to a body of extraordinary buildings—mostly residential—rendered with beautiful hand sketches and carefully considered details. He and his staff of three still follow that upside-down formula: fewer projects in more time.
Starting out, "all I had was a love of architecture and a certain kind of talent," Max says. "All I could do was hope to do good enough work that would attract more work. I recognized that the way to do that was to take a little more time on each project, putting sincerity into it."
Sincerity is an apt word, for Max takes a humble, almost childlike, delight in how architecture can affect people on a personal level, particularly its capacity to reframe our awareness of nature.  When that occurs, he says, it connects us back to our childhood. His ability to express this not just in architecture but in words and drawings has gained him a following among colleagues in Texas, where his lyrical prose, often accompanied by sketches of imaginary buildings, frequently appears in Texas Architect, and recently in the Dallas Morning News. Among the steady stream of design awards, including for his recent addition to Steven Holl's landmark Stretto House, in 2017 he was given the O'Neil Ford Medal for Design Achievement, the highest design award the Texas Society of Architects confers. "Among his peers, Max Levy is thought of as something like the poet laureate of Dallas architecture," wrote Mark Lamster, architecture critic of the Dallas Morning News. But more on that later.
A native of Fort Worth, Texas, Max studied architecture at the University of California, Berkeley, where he learned from visiting luminaries such as Louis Kahn, Richard Neutra, Carlo Scarpa, and James Sterling. Right after graduation, one event in particular influenced him. A friend invited him to tour the nearly completed Kimbell Art Museum. "It was pure architecture, no light fixtures, almost like an exquisite ruin," he recalls. Max was captivated by the quality of light coming from the long, slender skylights slotted over the galleries. "Reflectors are suspended beneath the skylights that reflect sunlight onto the underside of the ceilings—natural light fixtures, Louis Kahn called them. I remember the weather that day, partly cloudy and windy.
"As the clouds raced across the sky and alternately veiled or revealed the sun, inside the galleries the ceilings were alive with natural light flickering on and off," Max says. "I had been outside and hadn't really noticed what was going on, but inside the building I did. Here was an example of how architecture can reframe your awareness of nature, and when it does that, there's a soothing feeling of relief. That was a key discovery that awakened me to architecture's connection with nature."
After receiving his architecture degree, Max worked for Joseph Esherick in San Francisco before joining the Chicago office of Skidmore, Owings & Merrill. His plan had always been to return to Texas, however, and he soon moved to Dallas to work with Bud Oglesby. "He was something of a Texas version of Joe Esherick in that he did exquisite, thoughtful work with a wonderful human touch, but was never very well known," Max says. "He worked for [Alvar] Aalto when he was young and his buildings have a Scandinavian quality with Texas accents. I think in today's climate he would have more stature."
A few years later Max went out on his own. "Dallas is a wonderful place to be an architect," he says. "There is so much to be done here; any little win seems to be magnified. There is a great community of architects doing a wide range of work."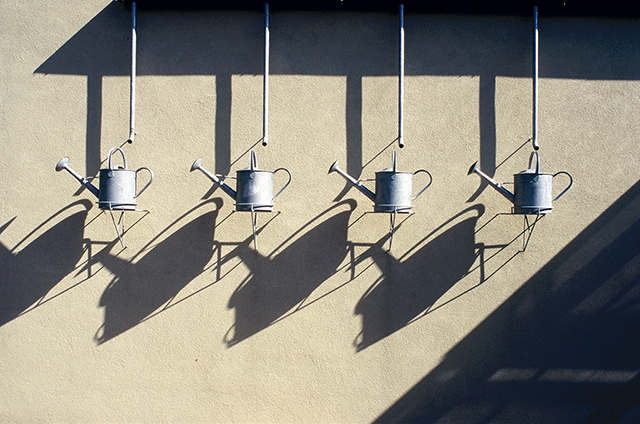 The Storyline
One benefit of a small practice is that it's easier to manage as long as the workflow is steady. For Max it has been, and teaching at the University of Texas at Arlington has helped him fill the occasional lull. He and his staff are engaged in every part of a project, which always begins with hand drawing, "resulting in projects with more depth and feeling," he believes. Hand-built models are used to capture the soul of the building. "When you kneel down and look into a model, there is something childlike that arises in you," Max says. "We try to make them beautifully crafted objects. When clients see the care that has gone into the model, they generally will give you all the lease you want. They think, oh, I'm going to be taken care of."
Whether the commission is a house, a columbarium, or a wedding/event center, the firm's buildings are never an abstract design exercise. "To be authentic and touching, the idea or story line of a project has to arise organically from the project," Max says. "So much architecture we see today is attractive but not memorable. The memorable ones tend to have a story line flowing through them—not just a look or a pose."
For example, Singing Bell Ranch is a long, slender house with cooling breezeways that replaced a house lost to fire on a working ranch. In the main breezeway, the architects suspended a big bell that the original owner had used to call the ranch hands in for lunch. Attached to a wind vane on the roof, the bell gives a single, gentle ring when the wind vane turns at a certain speed and angle. "The heart and soul of this ranch is the bell," Max says. "It only rings every few days, and when it does, it's an event."
His buildings consistently highlight a natural phenomenon in a subtle yet artful way. At House on a Pond, rainwater from the roof is channeled to a breezeway at the entrance, where it falls into a pool before cascading down a runnel to a pond. It doesn't even have to be raining for you to get a sense of the calming quality of rain, Max says; it's enough just to see all the apparatus that funnels water to the pond.
That sort of creative response can offset the grind of daily life. "Life is a feverish thing; we are all so worn out by it," he says. "There is in much of nature this mysterious, soothing quality. Architecture, of all things, has this natural capacity to reframe our awareness of it, quietly reminding you of what's there. Over the years we have gotten more fluent at finding ways of building one's awareness of rainfall, or of breezes, or passages of the sun and shadows. All these things can be played with in buildings so they can quietly take away the aggravations of your routine and give you a little lift."
Intuitive and emotionally intelligent, Max looks for design efficiencies while focusing on ways buildings can make our lives better. He is adept at reconciling the client's aspirations with an unremarkable site, program, and budget. Whatever their purpose or story line, his lithe structures also explore the way light and materials coalesce in space. And those materials are typically modest. With client budgets in the low-to-mid range of $300 to $600 per square foot, he often uses basic materials such as masonry, corrugated metal, and wood.
"Because so many of our projects have challenging budgets, we don't elaborate the surfaces or materials, just let them be, and then we try to magnify just a few details in a way that colors your perception of the whole building," he says. Sunlit House, on a flat, generic lot, features a grid of rods holding stamped steel leaves. Inserted into an exterior wall, they cast shadows that move in unison, their angles shifting with the seasons. And several memorable projects feature interior light fixtures made of plain porcelain sockets set in a circle of light-reflecting galvanized metal.
Another budgetary hurdle is finding a reasonably priced contractor who is willing to give the job an unusual amount of personal attention. Sometimes that is a subcontractor for builder houses who takes pride in being asked to do something different or artistic.  "You can finesse those kinds of resources and get a good project out of it," Max says. He adds, "I do think one reason people are attracted to the calling of architecture is that it exists at this unusual crossroads between the poetic and prosaic. We're dealing with buildings we have to use every day, but it's possible to inject this bit of idealistic world into that."
To Draw, Perchance to Dream
Even so, all architects struggle with how to sustain creativity in a daily reality that conspires against excellence. As Max puts it, "We have to run this gauntlet; that's the maddening paradox. The world resists what we try to give it, and also hungers for what we try to give it. The challenge is to actively cultivate one's inspirations, to keep a spark of life in your work. We're blowing against the wind all the time. It's very hard to push this idealism into society. The only way you can survive is by inspiration."
This is something Max works on quite deliberately. Early on, he understood that the fees architects are paid would pinch his creative time on a project. That's why his sketchbook is never far from reach. "I've found it's important to pre-dream before you even get projects," he says. "I try to set aside a little time each week to just kind of go sailing in a sketchbook, unattached to any particular project." Over the years, those sketches have become his most valuable reference. "What happens is, you have all these thoughts fermenting, and when the right project comes along, you connect it to certain ideas in the sketchbooks and weave it into reality and work it out."
For him, writing is almost as life-sustaining as drawing: the ideas he explores in articles for Texas Architect often find their way into his work. Similar to sketching, he says, you don't really know what's in your mind until you write about it. "It helps me cultivate a certain kind of thinking that deepens my work."
These solitary meditations on design are also helping him weather the current Covid-19 pandemic.  He recalls that when Louis Kahn lectured at UC Berkeley, someone asked him how he kept his spirits up during the Depression. The famous architect replied that he lived in a land named Le Corbusier. "He pored over the idealism and light in Corb's amazing oeuvre," Max says. "Regardless of what lies ahead, I've no doubt that the simple pleasures of architecture will abide."
---
Other work by Max Levy Architect
Columbarium 
---
House at Wind Point
---
Wedding Facility
---
Woodland Retreat