There are two powerful housing ideas that caught the imagination of the public during the early part of this millennium. The first was the modern modular movement, and the second was the tiny house crusade. At the forefront of both of those waves was Geoffrey Warner of Alchemy in St. Paul, Minnesota. You might not recall his name, but you have surely heard of his brainchild, weeHouse. WeeHouse is a synthesis of modular and tiny house, with the dual goal of making architect-designed housing more affordable and accessible. The first weeHouse in 2003 was an answer to several problems at the time, and it's still answering problems some 50 iterations later.
Geoffrey built the first weeHouse in response to a client's extremely restrictive budget. She wanted a modern weekend home for a piece of property she had on Lake Pepin, a natural lake on the Mississippi River that spans between Wisconsin and Minnesota. She had only about $50,000 to spend but approached Alchemy to learn what she might get for her money. "We hear the same thing today as we heard in the early 2000s," Geoffrey says. "I spent all my money on the land, but I value good design. The answer back then was just as depressing as it is now. We told her, you can have a pole barn or a little jewel box—if you forgo electricity and plumbing. There weren't many builders near the site, so we decided to build it ourselves."
Geoffrey, who has a background in hands-on work, and his small team built the 336-square-foot box. It wasn't exactly factory built, but it was built off-site. "I knew an exhibit design fellow with a warehouse and a big door. So we built it there—listening to music by Journey and Foreigner over and over again. I still can't listen to them to this day," he quips.
Why 336 square feet? "That was how big we could make it and get it on a truck," he says. "The building permit only cost us $12." The Arado weeHouse, as it became known, was off the grid by necessity (no budget for infrastructure) and equipped with just the bare bones of shelter, but it was not without some civilized touches. There was an Ikea kitchen, a wood burning stove, and, best of all, floor-to-ceiling Andersen sliders—not really windows, not really doors, but walls of glass, immersing the cabin in its natural surroundings. Eventually, the owner recouped enough financially to add the luxuries of a deck and an outhouse—and she swapped the original cement siding for Cor-Ten.
The charming tiny house captured the imagination of the public and garnered career-launching press for Alchemy. So much so, the firm decided to develop the weeHouse idea into a full-fledged modular home enterprise. The lesson learned from this first foray into micro-modular dwellings was an important one for Geoffrey, resonating with all he absorbed in architecture school and in life: "Budget is really secondary to making a project that really matters," he says.
Life Lessons
Scratch the surface of any breakout idea or artist, and you will find antecedents and influences that helped make them happen. In Geoffrey's case, he had studied at the University of Minnesota with residential architect Dale Mulfinger, FAIA. Dale is a local hero in Minnesota, founder of the firm SALA and its predecessor, Mulfinger, Susanka, Mahady Architects. These firms germinated the "Not So Big House" movement that Sarah Susanka, FAIA, codified in her book of the same name. To paraphrase the argument that Sarah makes in her treatise, designing and building a house is a size, cost, quality equation. If you want more size or quality, it will cost more. If you want quality, but your budget is tight, you must compromise on size.
This was an especially important message coming after the big volume-busting houses of the 1980s and 1990s, emphasizing square footage and ceiling height over craft, quality materials, and human-scaled spaces.
For his part, Dale's personal and professional passion is the cabin typology, something he's chronicled in a number of books. The special resonance of the building type emanates from its typically smaller size, its immersion in natural settings, and its ability to simplify daily life in meaningful, powerful ways.
"Dale's imprint and influence has really shaped our community," Geoffrey observes. "He's an evangelist for residential design and has built a practice revolving around small projects." WeeHouses take the "not so big" mission to heart. They also capture some of the magic of the cabin in their ability to distill function and form down to their essence.
Now that they've been around almost two decades, weeHouses have gotten a bit less wee in some cases, as clients' goals and budgets have become more bountiful. But they still carry forward their emphasis on a highly insulated building envelope, siting that considers solar orientation, and spare detailing. Their modular system allows them to grow with the program, sometimes as boxes linked "like a compound," says Geoffrey, or stacked into multiple stories. "Because it's a system of boxes, each can have a different function," he explains. "You can have a sleeping box, a living box. We don't dictate how you're going to combine them." Nor does Alchemy dictate how they should be built—on-site, in a factory, or panelized prefab. Choosing a construction approach is part of the due diligence of design development.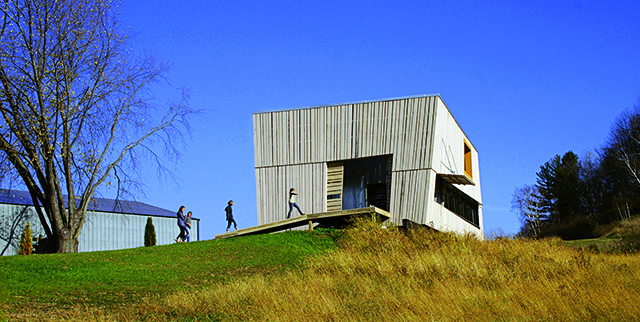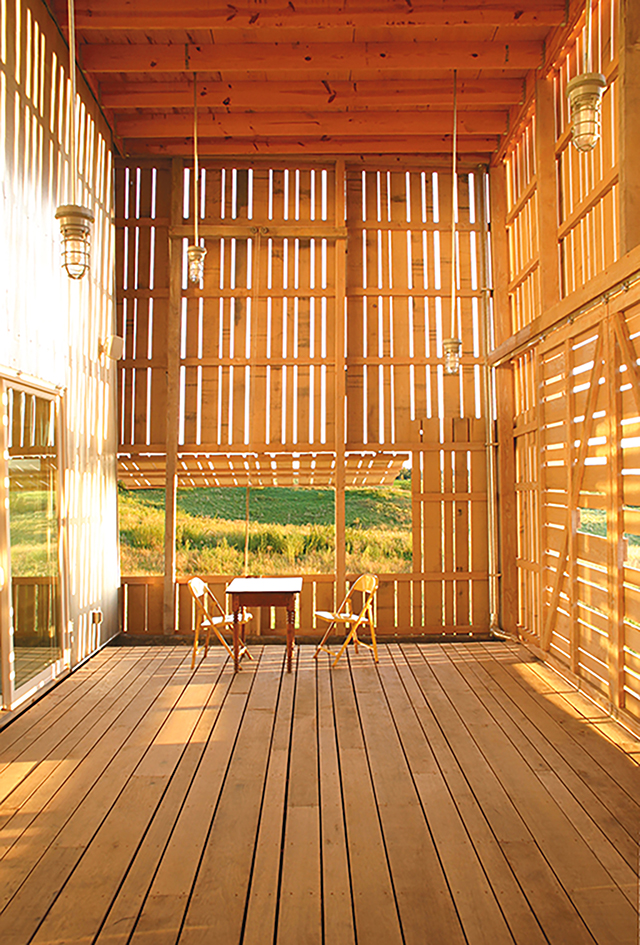 Although based on a common modular system, the boxes are a tabula rasa for customization. "The key to making it awesome is deciding whether you enter it from the end or the side, the materiality you choose inside and outside, and the fun things you can do, like awnings, light poles, steel stairs—the jewelry stuff you can add on." In some ways, the weeHouse is that little black dress you elevate by accessorizing.
Natural Elements
Designing small houses is as much about what you take away as what you add, but what you can't sacrifice is siting and landscaping. Geoffrey has firsthand, lived experience in renovating modest little bungalows into functional spaces that serve family life, but the projects didn't end at the front door.
"Bungalows are a common building type here. They are small, but practical. I lived in an 800-square-foot bungalow and rebuilt the hell out of it," he says. "I've lived in a succession of them, and now we live in a house we designed for someone else. What we've really come to appreciate is, that only when the landscaping was done did each house finally feel like home.  It's equally important to integrate the landscape with the house."
He now applies this personal experience to Alchemy's modular program. He tries to visit each site to guide the process of marrying structure to landscape. Most of the firm's work is far flung, so this is no small task. It's meant many trips to the West Coast and the Northeast, where most of houses are built. "This is one reason we don't go around touting how awesome we are, because the process is pretty grueling," he says.
The modular approach, though, does make the design development phase more streamlined than a conventional custom build. "By the time we meet with the clients at the site, they've already shared their program, we've shared some ideas, and they've said what they like and don't like," he explains. "We work through those in the evening and come back the next day and start making some decisions. It pulls out all the possibilities the clients have been thinking about for a long time. We didn't use to see all of the sites, but I've discovered it's important to put in those intense two days."
Having a building system that's replicable is a welcome relief for many clients. They don't have to conjure something entirely new out of whole cloth with their architect, and that instills confidence that they'll get what they want at the end. They must accept the givens of the modular components, but within those parameters there's a great deal of customizing and tailoring possible. Together, clients and architect speak a language that makes collaboration a creative process they can both share in.
"Our clients tend to be cultural creatives. They don't have a lot of money, but they're willing to spend it on design. And they tend to buy into the ethos that smaller has advantages beyond simply that it costs less," says Geoffrey. "We collaborate with clients who are designers and architects themselves—especially ones who don't do small houses."
Of course, there are some collaborations that don't make it to the construction stage, but Alchemy recycles them to its website as alternative weeHouse strategies. Some have been so different they warrant their own nomenclature. There is now a barnHouse system, which can sport a pitched roof and a more familiar, classic profile. And there are lightHouses that return to the weeHouse's roots of micro-housing with very limited luxuries. LightHouses are designed to keep costs and square footage down, and may find their best niche as accessory dwellings, "granny flats," home studios, or small cabins. They evoke the spirit of the Arado weeHouse, whose owner ultimately sold the rural land it occupied and had Alchemy move it to the backyard of her suburban home.
With such a diverse pattern book, the firm knows it needs a new, more fulsome website—and one is in the works. After all, their best clients are ones who've done their research into Alchemy's systems and offerings—essentially prequalifying themselves and their projects. "We've done a really good job of keeping our designs simple," Geoffrey observes. "But we've realized people want to see a big matrix of design possibilities—a collection of 'ideagrams.' The idea of arranging boxes is intuitive with people."
---
Additional Photography
[Text provided by Alchemy Architects]
Sonoma weeHouse
Project Description:
The Sonoma weeHouse was designed in Minnesota for a client in San Francisco, built in Oregon, and shipped to its Santa Rosa, CA site 90% complete. The client, an architect himself and Apple's Senior Design Director, Real Estate and Development, was the project's co-pilot with Geoffrey C. Warner, Alchemy's principal architect. This small, ultra-minimal, high-end home is based on Alchemy's weeHouse design, but was customized to meet the luxe finishing requirements the client requested.
The home is composed of two minimalist open-sided boxes set on board-formed concrete plinths nestled on the edge of gnarled oaks. Both structures feature steel frames, 9 ft. tall sliding glass walls set into custom corrugated weathering steel boxes, and ipe interiors with oiled oak cabinetry. The offset boxes are connected by a set of Alchemy-designed steel stairs and railings which were fabricated in Minnesota.
The 16 ft. x 40 ft., 640 SF primary box features a whitewashed oak bed box in the middle of the volume. A kitchen-dining-living room space is on one side, and a bath space on the other. For shipping logistics, the primary box was composed of two modules, one being the 10 ft. x 40 ft. porch. The porch module was bolted onto the main module onsite, and cantilevers into the site's dramatic landscape.
The accompanying 330 SF guest house is an abridged version of the larger module with a large whitewashed oak wardrobe forming the bathroom wall. Both structures take advantage of the site's expansive view.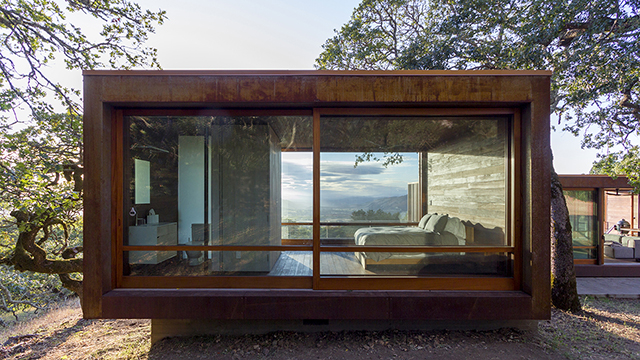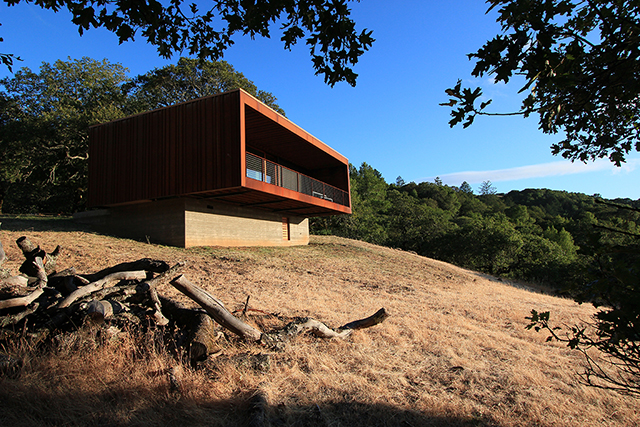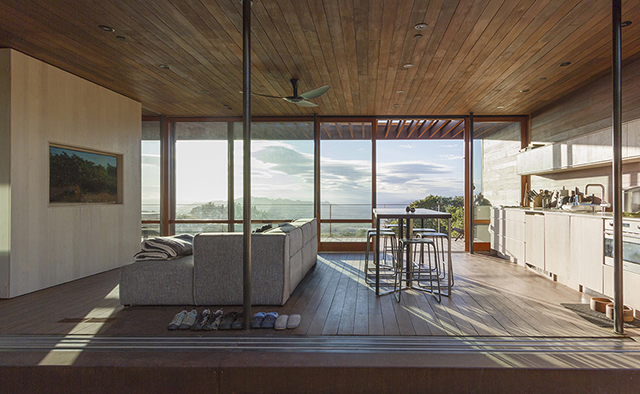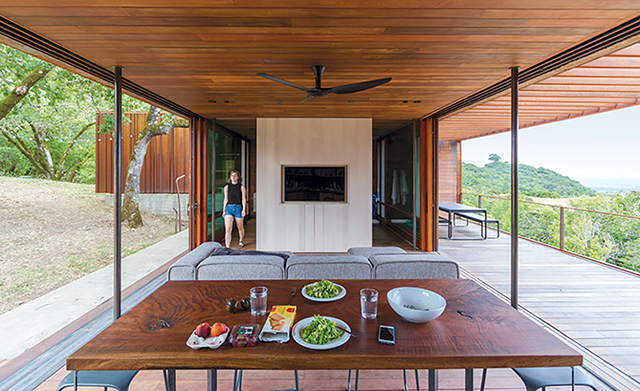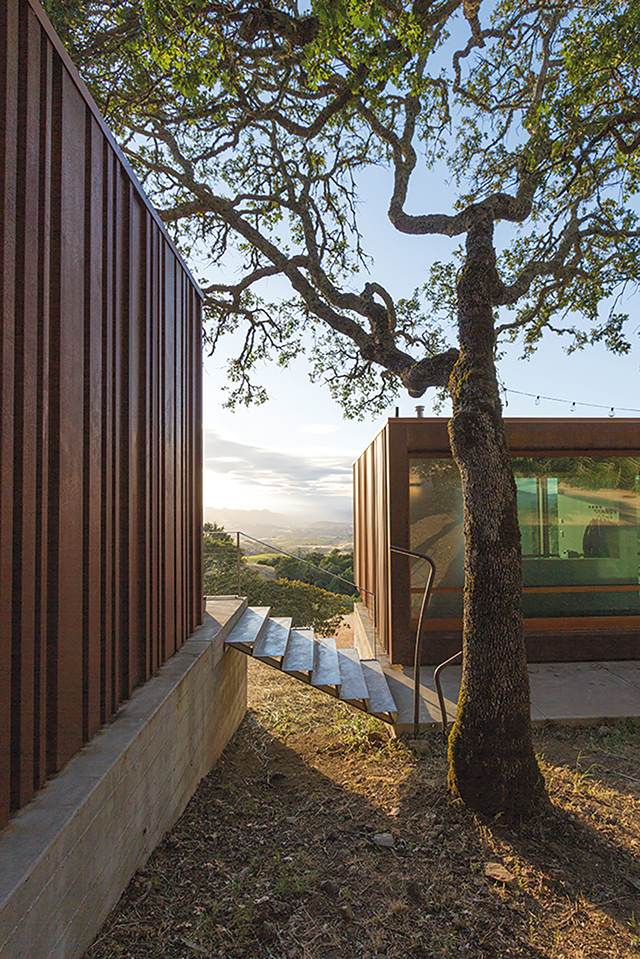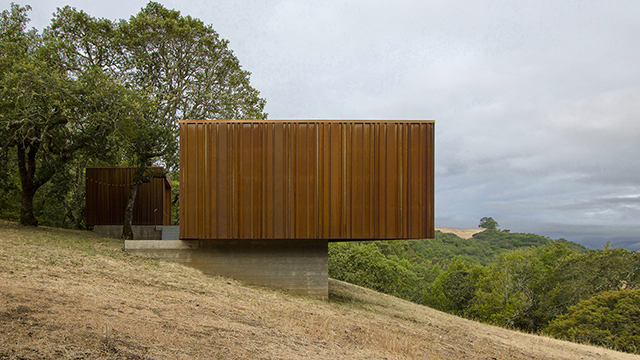 ---
Blair barnHouse
Project Description:
Alchemists live in the Midwest and we love barns. This house takes all its clues from the 19th century barns still dotting the prairie, but updates them for the 21st Century. It features Barn siding (painted pine installed to allow for breathing and rain screen properties) with light filtering through a few, large openings. Inside, a sleeping loft above, and bedrooms below fit the needs of the owners. There is also interior Barn Space, an open, two-story room with two volumes inserted within. One in steel, the other in ash strips, they provide under-and over-spaces like a hayloft, and provide flex office/guest space.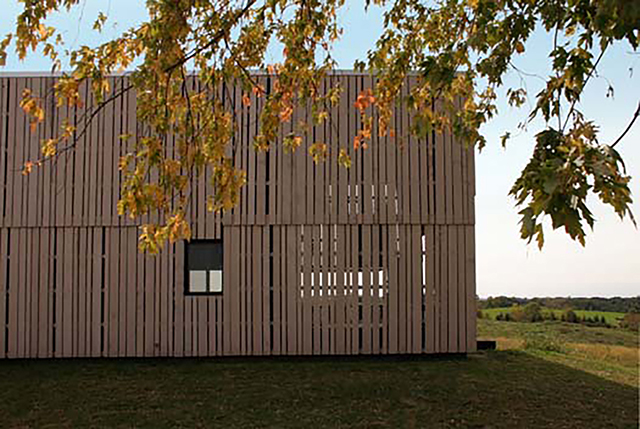 ---
Rocky Brook weeHouse
Project Description:
A loft-like house is carved out of the grade of a steep creekside lot, blending the margins between aged artifact and landscape.
The house is about close views, inhabiting the sound of rushing water, and moving through the trees and vertical space of the New Hampshire White Mountains. Over- and under-spaces provide comfortable places to be in hot or cold, sunny or rainy weather. Exterior finishes were chosen for their durability and the ability to blend, organically over time, into the natural context.
The owners, who previously built the Johnson Creek weeHouse and described the second floor as "one of the most beautiful interior spaces they had ever been in," moved from Philadelphia to Boston and started anew. They are "creek people" who value serenity.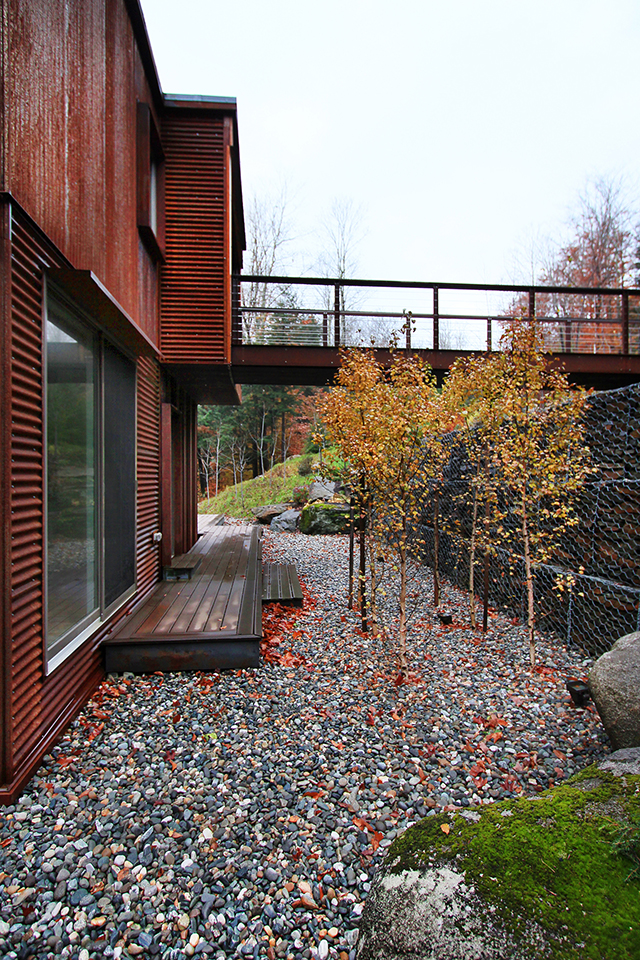 ---
lightHotel
Project Description:
The LightHotel, a one room mobile hotel built using a shipping container, is a one-time art project by Alchemy. It stood as a beacon for ecotourism and sustainable living in the Twin Cities, and moved as the flow of the city required, occupying places both celebrated and ignored. The city itself was its lobby.
Its interior is efficient and luxe, making the most of limited space within the salvaged 8′ x 20′ shipping container. Just like most hotel rooms, there's no kitchen, so overnight guests ordered "room service" from nearby hot spots. Built for the year-round Minnesota climate, it features a spray foam shell, triple-glazed windows and doors, solar powered HVAC, LED lighting and hydronic in-floor heat. The water system is self-contained, with a 250-gallon water tank that supplies an on-demand water heater and a bio-filter producing re-usable grey water. A high-end, roomy shower keeps a body happy. Mechanical detritus and applied typographic overlays entertain and provide functional insight.
The LightHotel is part of Alchemy's ongoing effort to celebrate and create new paradigms for efficient living.
NOTE: In 2018, the LightHotel was sold to an entrepreneur in north central Minnesota who is forming a 'circle' of sustainable structures that will be rented out.