Minneapolis-based MSR Design's portfolio consists mainly of public and institutional work these days—not a big surprise when you look at the Paper Mill residence, which demonstrates the same through-line of sophistication and clarity. In lesser hands a house this large might have competed unfavorably with its idyllic setting, but the 16,600-square-foot trio of barnlike buildings looks pitch-perfect on the rural Pennsylvania property.
Longtime clients of MSR Design, the couple with grown children had lived here for several years in a house that didn't meet their needs. They hired MSR Design to renovate and configure it for living, entertaining, and working. The key word was entertain, because they do it in a big way. The architectural challenge was to create a house that feels intimate for just the two of them but effortlessly expands to welcome crowds of up to 200. That, and to hit the sustainability benchmarks the firm has committed to through the Living Building Challenge.
An environmental strategy seemed especially urgent given the pristine natural setting. Heavily treed and dotted with rock outcroppings, the property was originally the site of a paper mill. It overlooks a wide stream with a waterfall and originally held a turbine that ran the mill. At some point a log cabin was built on the land, followed by an attached house. "The existing house was not well built and was plagued by humidity control issues," says principal Matthew Kruntorád. "Altering it would have made it way bigger. We ended up making a smaller house by not renovating."
For such a complex brief, MSR's design concept is surprisingly simple. It began with acknowledging the local vernacular. "We looked at the barn forms, and also the materiality of stone barns," Matthew says. "You come over the crest and see these three really simple, familiar forms—one garage, one entertainment wing, and a living wing, with connectors between them for entry." Visitors arriving at the parking court are introduced to two wood-clad volumes with pitched metal roofs and a third stone-clad volume. The living and entertaining wings have tall, slotted windows similar to the way old barns were ventilated. In contrast, the rear façade facing the stream is treated in a more modern way with a fully glazed wall that opens almost 100 feet wide, allowing the interior spaces to spill out.
If the first impression is one of familiarity, it's also because the stonework—on the living wing and on the entertaining wing end walls—takes its cues from traditional masonry. "Masonry has changed over time; it's more of a veneer now," Matthew says. "We started looking at what barns would typically be—not the premier stone and the thinner veneers that quarries are going for. Because of the way stone is almost glued onto a building now, it doesn't have the same proportions as traditional stone. So we went to a local quarry and asked for C-grade stone. We thought we could make something beautiful out of something less expensive and think creatively about how to put it on. It was literally a pile of stuff the quarry didn't want to show us."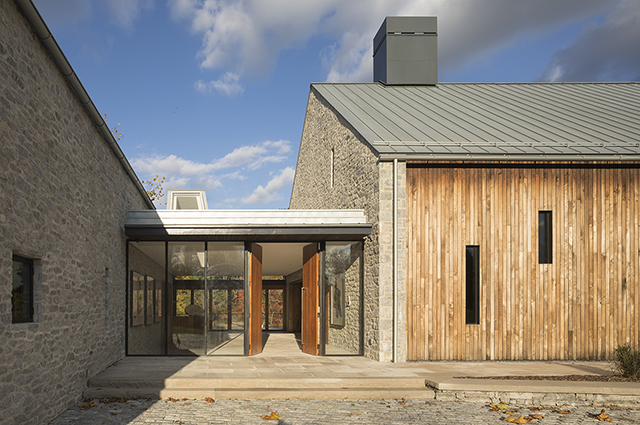 Open and Closed
From a use standpoint, the couple's entertaining scale and frequency drove the floor plan. They described wanting to feel comfortable when the two of them are working or having dinner together most nights. Once a week they have several people over for dinner or cocktails, with progressively larger gatherings monthly and yearly.
Constructed on a slope, the building's main floor consists of cathedralized living and entertaining wings, each with a loft that looks out to the water. The art-filled foyer acts as a spine connecting the east and west wings, and a south-facing roof monitor keeps this space bright throughout the day. Solid chestnut doors on each side of the entry hall allow the owners to cocoon behind them or fold them back for parties.
In each wing, a steel ridge beam, heavy timbers, and a steel moment frame on the back wall liberate the plan from columns. The residential side consists of an open living, dining, and kitchen area. Hidden behind a continuous wall of cabinetry, farthest from the stream, are a guest room, powder room, and the vaulted primary bedroom suite with a gas fireplace and large walk-in closet. "The owners really like it quiet and dark when they sleep," Matthew says. "The insulated stone walls are nearly 2 feet thick, which produces a very quiet space." Slotted vertical windows send shafts of light across the fissures of the stone wall. Stairs to the skylit loft, suspended in midsection, lead to a gym/yoga space and an additional guest room with a small balcony facing west.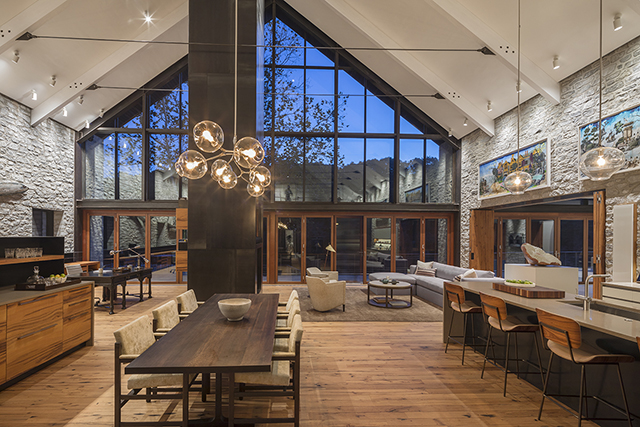 These nested spaces contrast with the opposite side of the 40-foot-wide living wing. As you move toward the stream, the house opens fully with two sets of 20-foot bifold glass walls. Butt-glazed glass above the pergola—a datum line along the back of both wings—rises to almost 30 feet at the peak. "It overlooks the rocky outcrops and trees and stream," Matthew says. "They often see bald eagles flying in."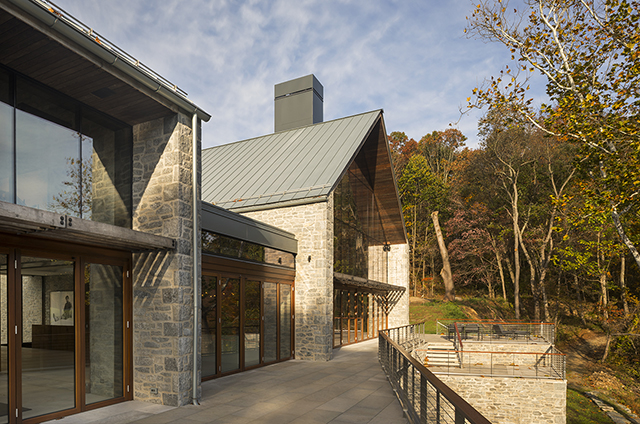 Across the entry hall, the 60-foot-long entertaining zone incorporates a long bar and a nearly 6-foot-tall wood-burning fireplace. An art display wall behind the bar hides a catering kitchen and powder room.
This section seats up to 50 people for dinner; for larger gatherings, tables can extend through the entry hall and into the residence—fireplace to fireplace—or, when weather permits, onto the limestone terrace outside the glass walls. The loft offers a more intimate space for overflow, conversation, and views. There are more rooms in the walk-out lower level. In addition to a project room, laundry, and wine room, three bedrooms and a lounge and kitchen give overnight guests some autonomy.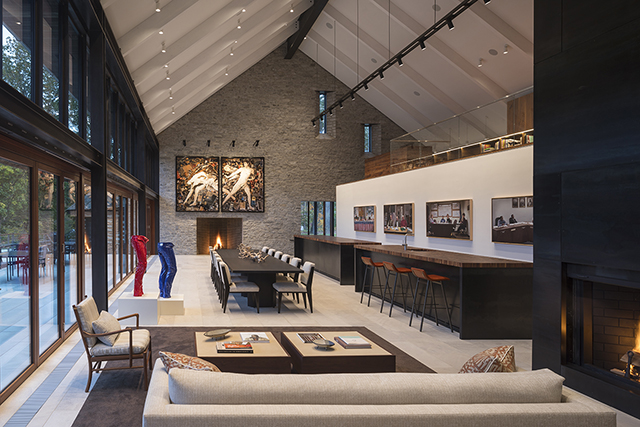 To Scale
If the soaring volumes allow views outdoors from almost anywhere in the building, solid walls, movable art-display cases, and built-ins control scale and acoustics. "It's not only big in layout but in height," Matthew says. "We knew that if we didn't make it tall, it would feel really awkward inside. The spring point where the rafters start to go up is 15 feet high, and the ceiling approaches 30 feet in the center."
Mullions in the glass walls help to break down the scale, and a minimal palette of blackened steel, reclaimed wood, and stone creates a sense of calm. Exposed timber ceilings and acoustical plaster absorb sound bouncing off the stone walls and stairs, especially in the entertaining wing, which also has an inch-and-a-half-thick limestone floor. Walnut cabinetry lends warmth to this zone, and the residence's wormy chestnut flooring and cabinetry has the same effect. "The finishes are mainly reclaimed wood," Matthew says. "We cleaned up the edges so it has a modern feel but the character of something that's aged over time, and it goes well with the blackened steel used in some locations."
Planes of light humanize the interiors, too. Ceilings are painted white to bounce the light, which includes chandeliers and pendants, recessed lights, and adjustable sconces and track lights for setting a mood or highlighting artwork. Skylights connect the inhabitants to the sun, and the thin window slots are splayed on the inside, creating slants of light at ever-changing angles. In the thick stone walls, "the saw cuts around the windows are clean and smoother so that the light can make its way farther in, even though it's a small opening," Matthew says. "Traditional barns often get this incredible light through thin slots." Such threshold detailing gives the house a finer grain. Downstairs, for example, stone wall jambs are similarly clean-cut and inset with blackened steel lintels.
Grounded
Much like the natural world around it, the architecture succeeds in achieving a calibrated balance of comfort and resource-efficiency. Stone on the walls is almost 5 inches thick on each side, with a 12-inch-thick core of sprayed insulation to create an airtight thermal mass that keeps temperatures stable. "Both the wood and stone walls have similar construction with a high R value," Matthew says. "Our strategy was to make it net-zero ready, and they recently installed the solar array on a large remote maintenance shed." A geothermal system supplements the solar energy, and a preliminary design was drawn for future hydropower generation, if needed. Floors are radiant-heated and cooled, and ceiling fans circulate fresh air.
Exterior materials, such as the garage and entertaining wing's locally harvested black locust rainscreen, will not need much upkeep. "We did put a dark cocoa stain on it because the initial color is not great," Matthew says. "The water-based stain will gradually go away and the black will take over. Again, it's one of those materials that isn't necessarily thought of as a beautiful material, but we tried to use it in a way that respects it."
Part of the master plan, a cohesive landscape now knits the various buildings together. A pergola connects the garage and entertaining wing, and pathways lead to the adjacent log cabin, now used as a guest lounge and sleeping loft. Outside is a terrace that handles overflow from the entertaining zone. A series of steps lead to a lower-level firepit, and on down to the waterfall.
The new planting plan reinforces the buildings' agrarian vibe. Gone are the manicured lawns and a formal red oak allée that rose over the crest. The oaks were replanted in clusters around the property. This move lends a more naturalistic feel, along with native grass planters on the terraces, a native meadow, and rain gardens. "Our plantings were intended to let the landscape grow more prairie-like and just mow areas where they want to walk," Matthew says. Ambitious in both scope and conservation practices, the house acknowledges history but is firmly rooted in its place and time.
---
Images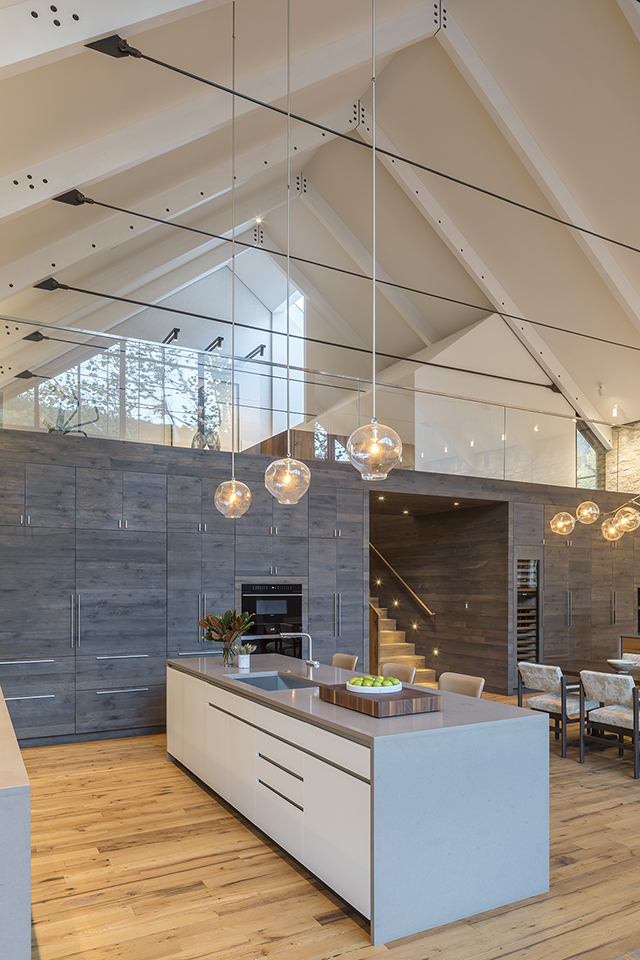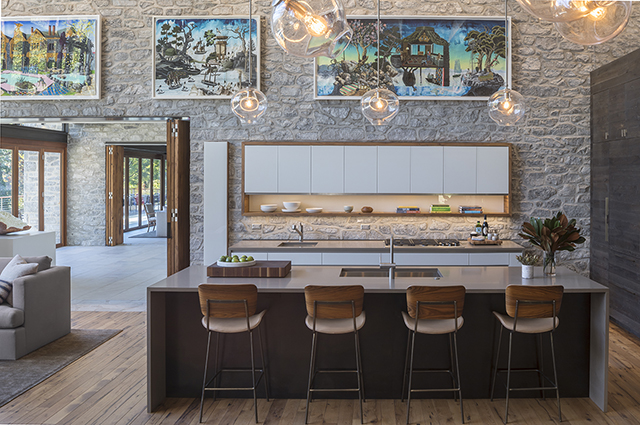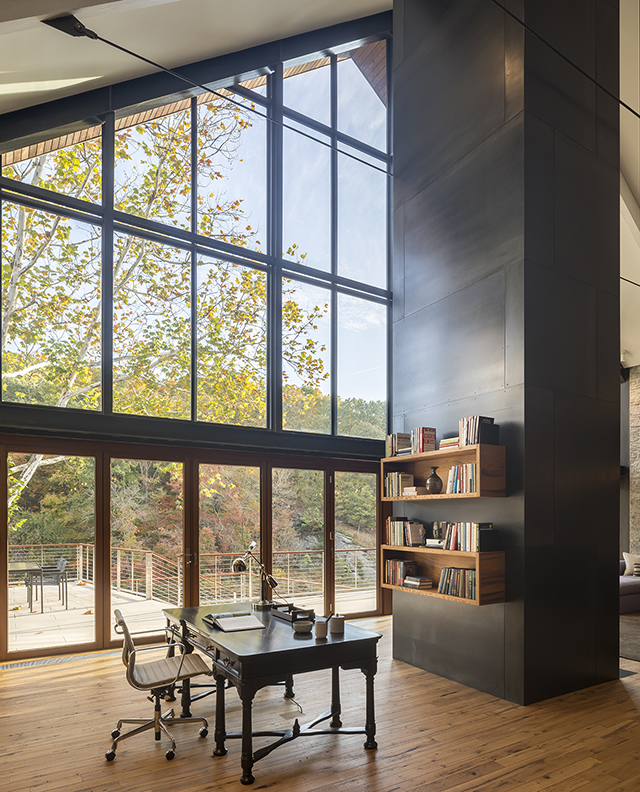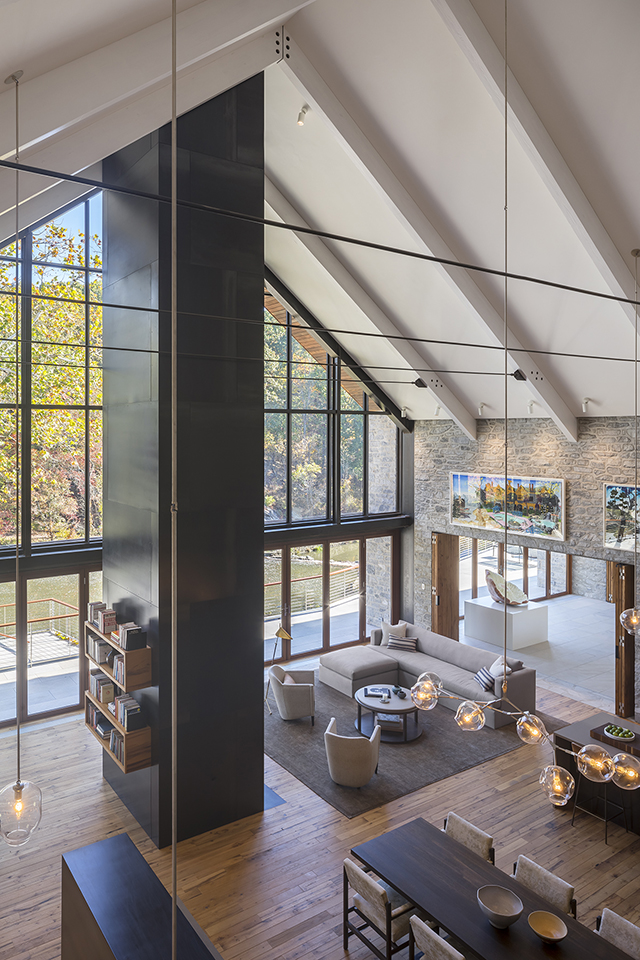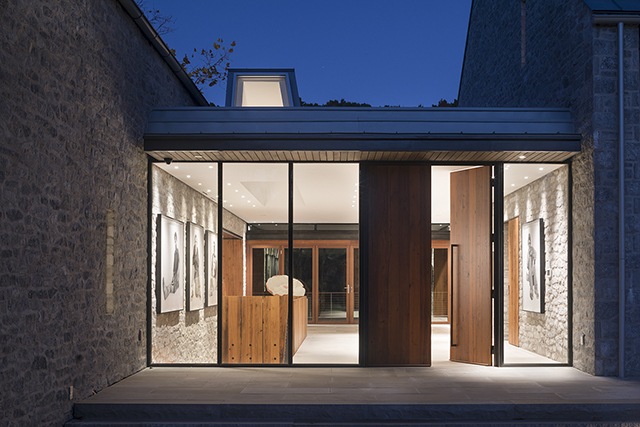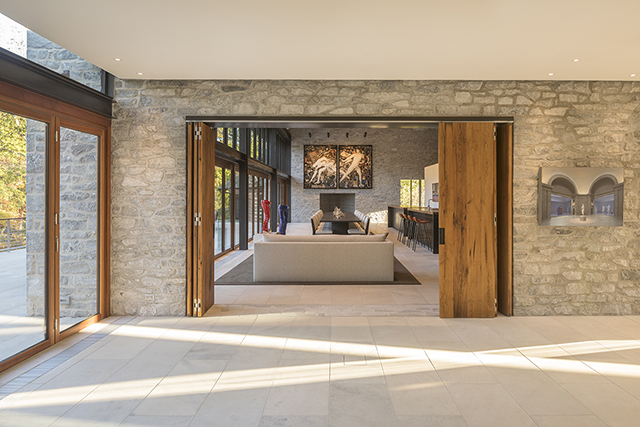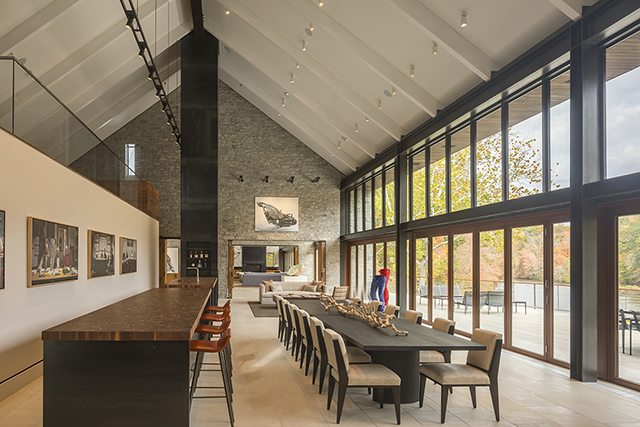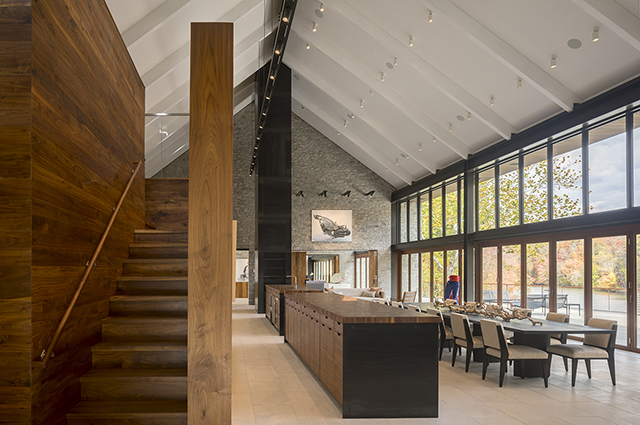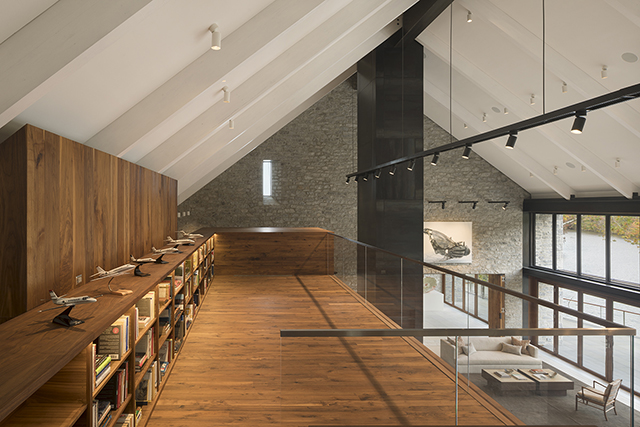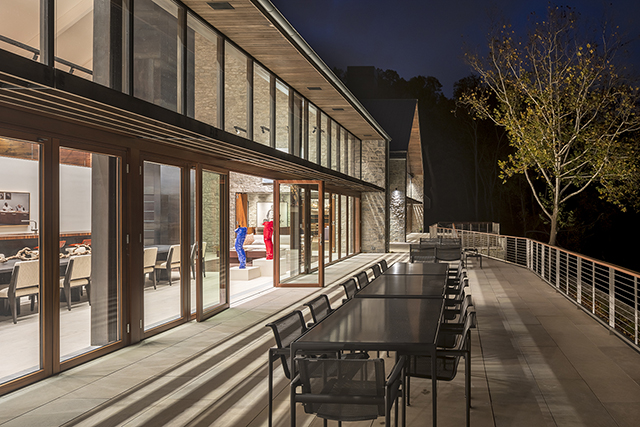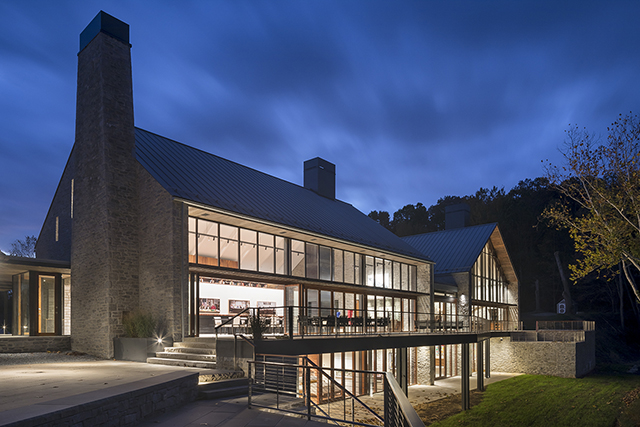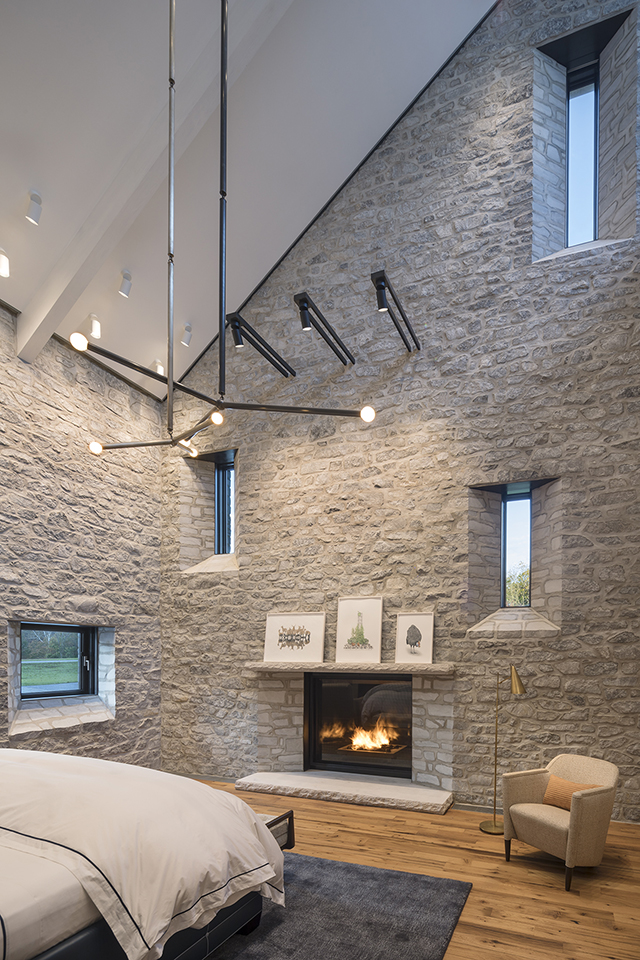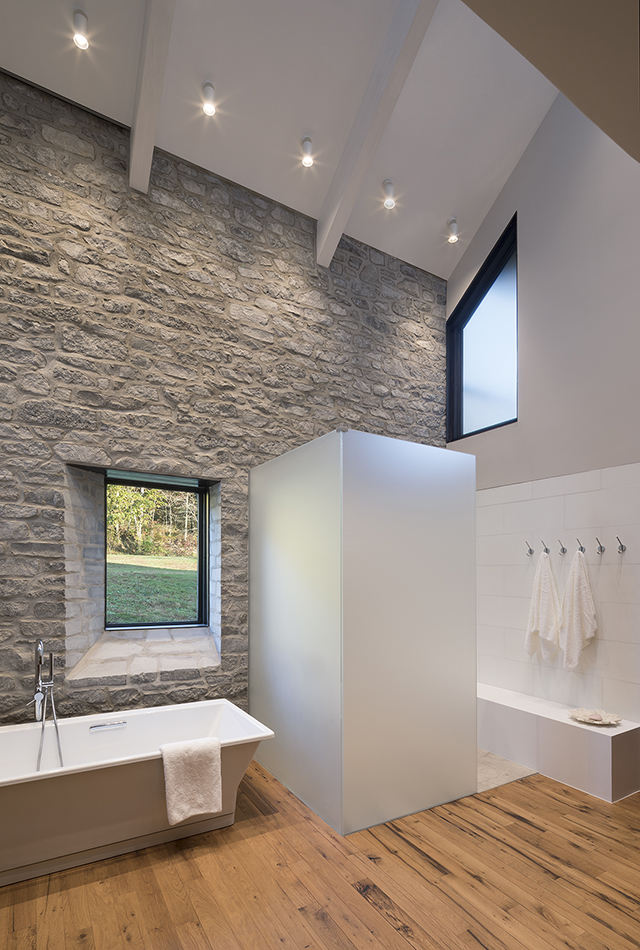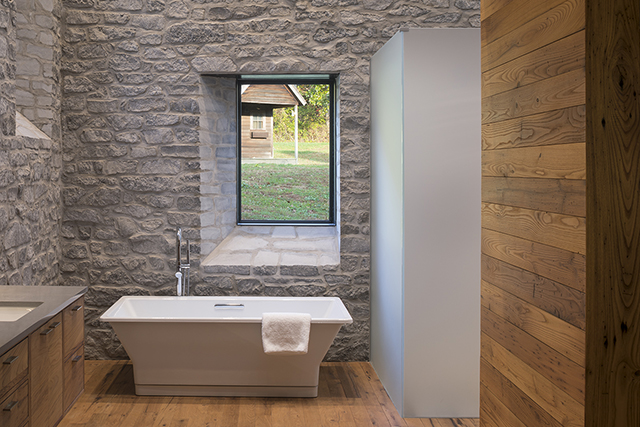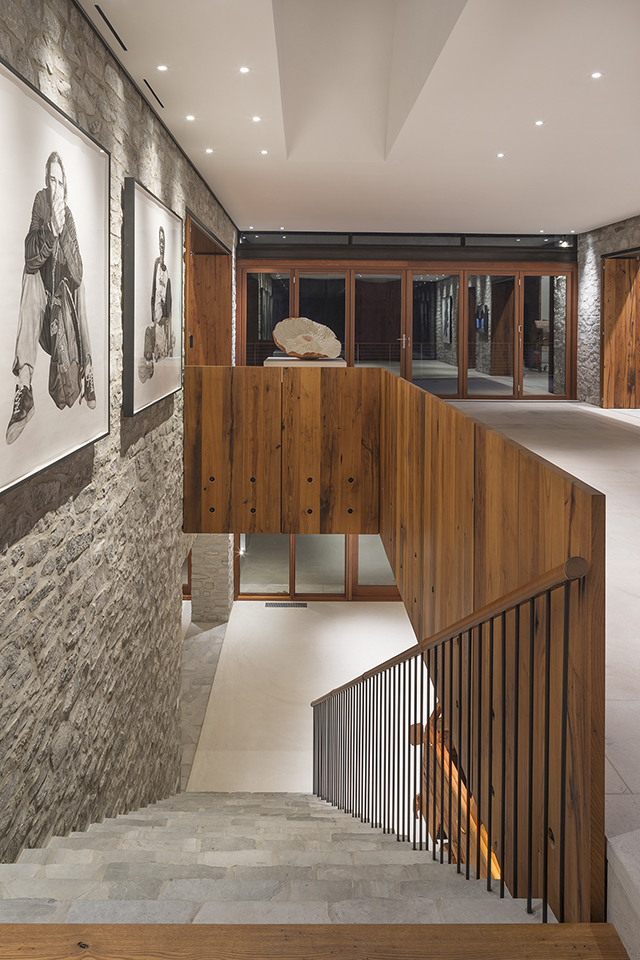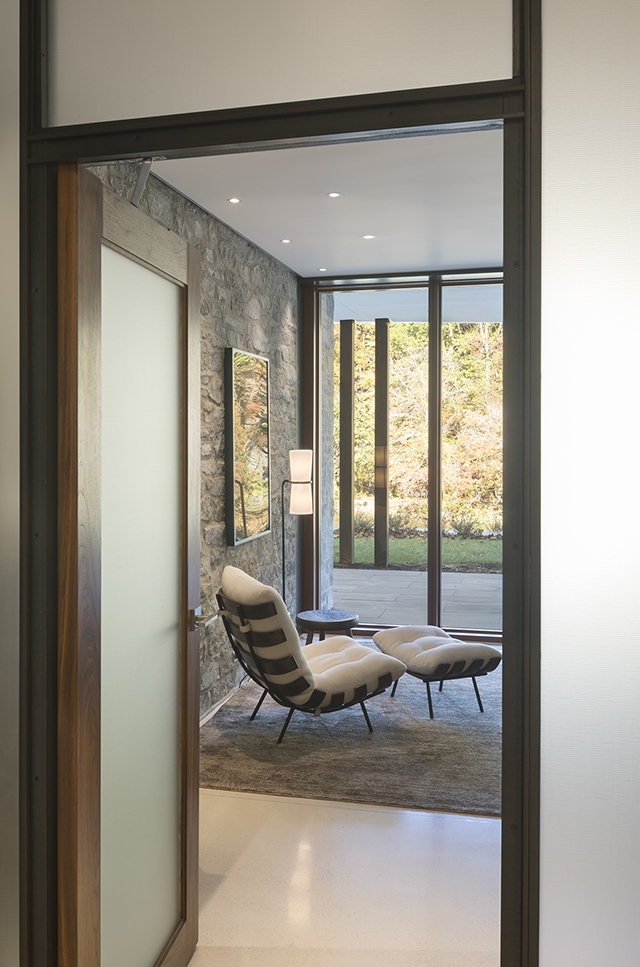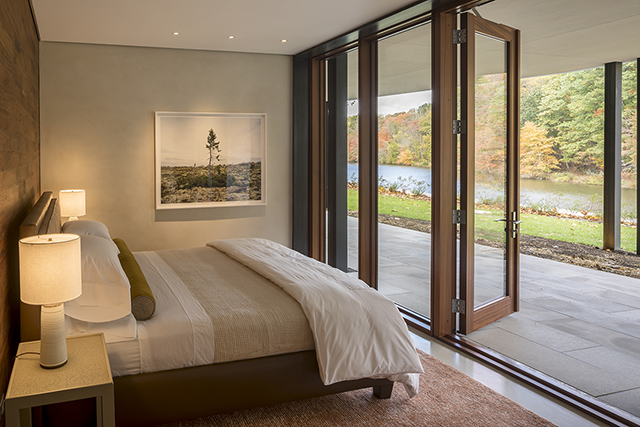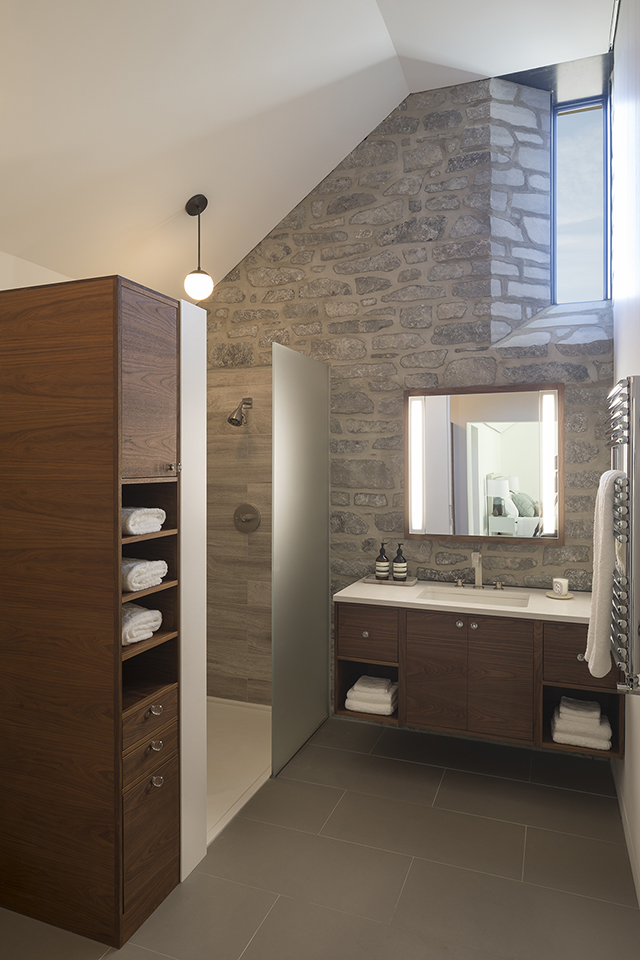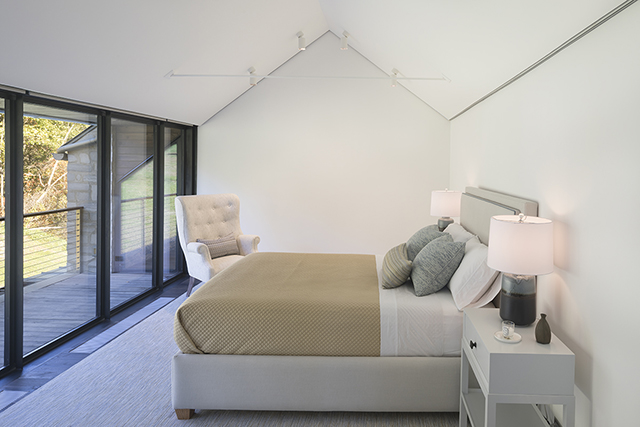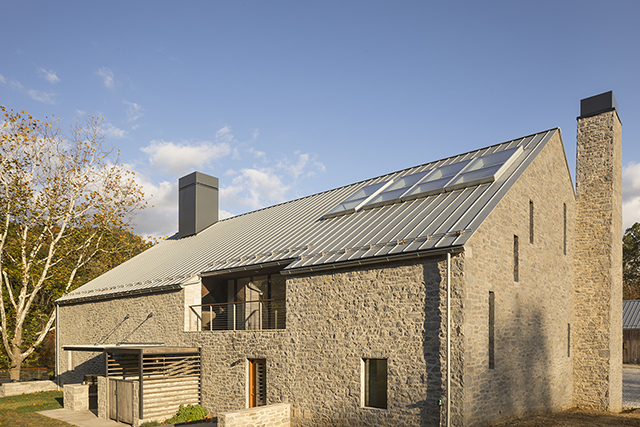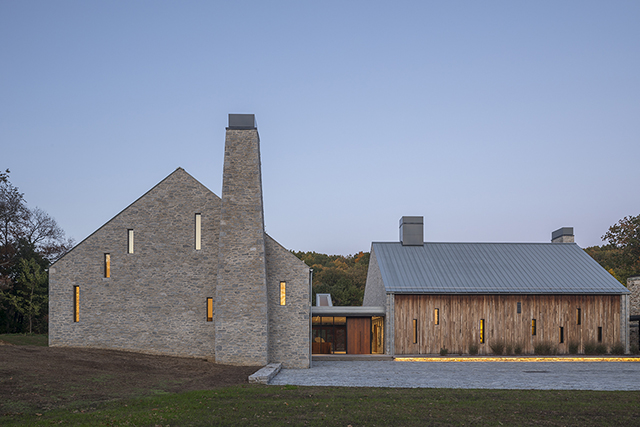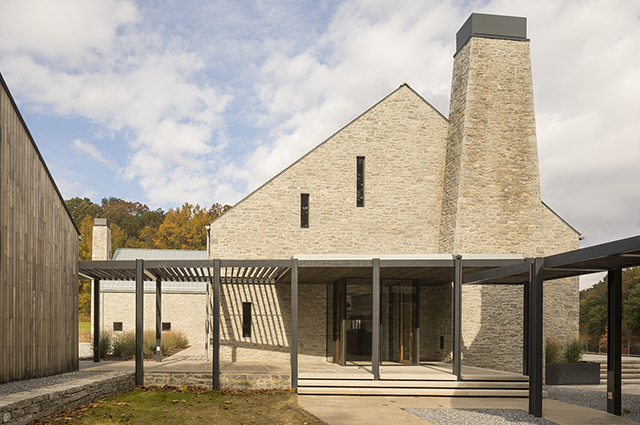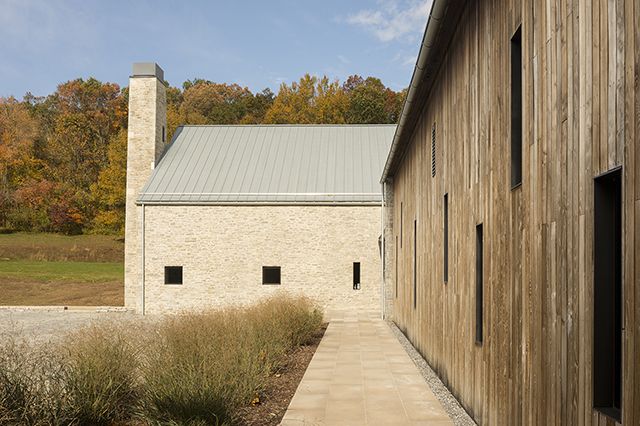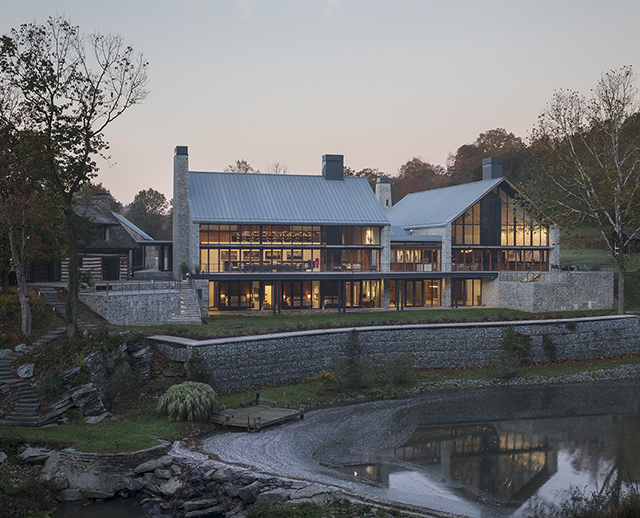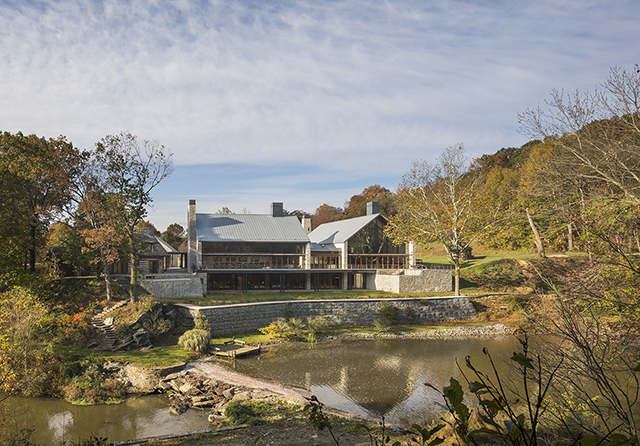 ---
Plans and Drawings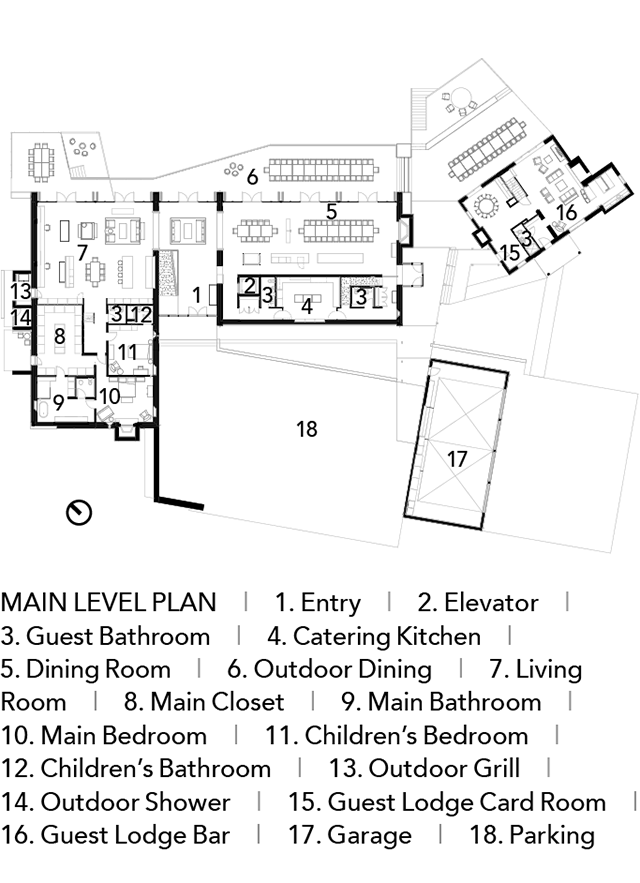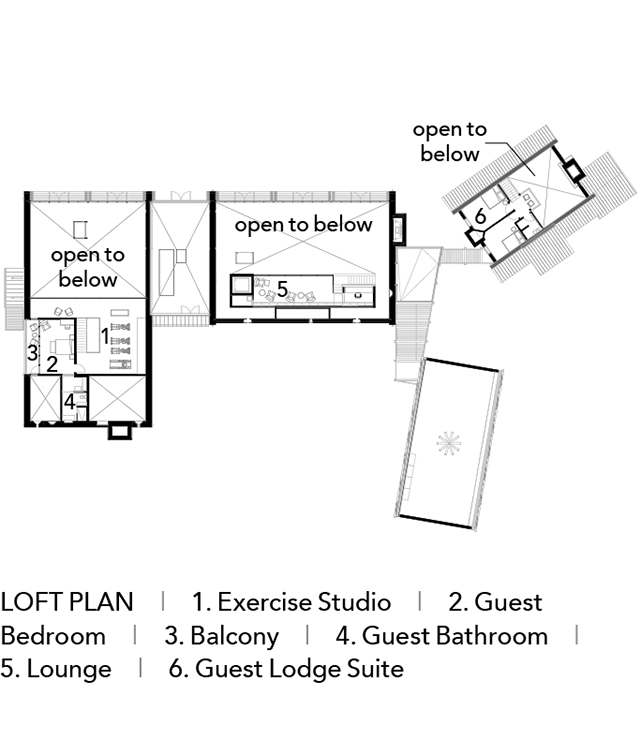 ---
Project Credits:
Paper Mill House
Southeastern Pennsylvania
Architect: Matthew Kruntorád, AIA, MSR Design, Minneapolis
Builder: Boss Enterprises, Wilmington, Delaware
Interior Designer: Leanne Larson, MSR Design
Civil Engineer: Advanced GeoServices, West Chester, Pennsylvania
Structural Engineer: Meyer, Borgman, Johnson, Minneapolis
Lighting design: Gallina Design, Chatfield, Minnesota
Landscape design: Ten x Ten, Minneapolis
Project size: 16,600 square feet
property size: 300 (5 acres built) 
Construction cost: Withheld
Photography: Lara Swimmer Photography
Key Products
Custom Cabinetry and Entry Doors: Artisans & Co.
Cooking Appliances: Wolf
Countertops: Caesarstone
Curtain wall: Colfab Metal Fabrication
Dishwasher: Asko
Dryer: Maytag
Faucets: Dornbracht
Garage Doors: Wilson Industrial Doors
Grill: Wolf
Hardware: Frost, Valli & Valli, Hafele
Home Control Systems: Savant Systems
HVAC systems: GeoExcel, A.O. Smith, Honeywell, REHAU
Icemaker: Scotsman
Lighting: Lucifer, Kurt Versen, Gammalux, Vistosi, Cheope, Leucos Fairy SC, Vode, ConTech, MP, Winona, BK Lighting
Lighting Control System: Lutron
Refrigerator: Sub-Zero
Sinks: Orion, Kohler, Elkay
Skylights: CrystaLite 
Slide/Fold Doors: Duratherm Window Company
Toilets: TOTO
Tub: Kohler
Ventilation: Panasonic
Window Shading: MechSystems
Windows: Brombal USA
Wine Refrigerator: Sub-Zero