Designed for an art collector, Art House doesn't just make a statement, it creatively addresses several issues that plague San Francisco's residential neighborhoods, namely its narrow lots and steep terrain. The house sits on a downslope with dramatic backyard views to the north, while the street side faces south, creating competing needs for light, privacy, and shade. How to fit it harmoniously into the eclectic streetscape was another challenge, given the client's penchant for powerfully minimalist architecture. This is the kind of puzzle Aidlin Darling relishes. "We always ask, how can a singular gesture solve three to five problem statements," says Josh Aidlin, FAIA.
What emerged was a quiet interpretation of the Victorian townhouse. His team worked closely with the city planning department to craft a modern home whose ordering principles come directly from the scale of neighboring homes. "Our strategy was to design this concrete mass but complement it with a tremendous amount of glazing, and layering on top a two-story brise soleil," says Josh. That delicate red cedar screen was the gesture that solved multiple problems. A counterpoint to the monolithic concrete walls, its horizontal slatted panels abstract the window proportions of neighboring homes. They filter light and views, while connecting the occupants to the sight of two large street trees. In contrast, the rear façade is four stories of glass that provide panoramic views of the Golden Gate Bridge, Alcatraz Island, and the Palace of Fine Arts.
Another street-friendly move is the see-through slot where the stairway winds up through the house. "You can look through the house to the bay beyond; that was our gift back to the neighborhood," Josh says. Adds project architect Mike Pierry, "The planning department likes to emphasize adjacent characteristics; they and the client were excited about it because it emphasizes the nature of the site and is an interesting architectural detail."
Compressed between concrete walls, a half-flight of stairs inside the front door leads to a living room with a 20-foot-tall window wall and 12-foot-tall pivoting doors that open the entire room to a deck. The owner's office is suspended above the living room, its slats framing the iconic bridge span when he's seated at his desk. Interior windows and a large skylight in the rooftop garden scoop light to the core of the house, and a bamboo light well brings greenery and movement into the dining room. The lowest level opens to three terraced gardens that follow the hillside—the final applause for a house that brilliantly embraces its surroundings.
---
Honor Award  
Custom Urban House
Aidlin Darling Design
Art House
San Francisco
Project Credits
ARCHITECT: Joshua Aidlin, FAIA, partner in charge; Michael Pierry, project architect; Cherie Lau; Brent Grubb; Julia Arria, Aidlin Darling Design, San Francisco
BUILDER: Cello & Maudru, Napa, California
LANDSCAPE ARCHITECT: Andrea Cochran, San Francisco
SHORING CONTRACTOR: Benjamin P. Lai & Associates, Danville, California
GEOTECHNICAL ENGINEER: Harold Lewis & Associates, San Francisco
CIVIL ENGINEER: Lea & Braze, Hayward, California
STRUCTURAL ENGINEER: GFDS, San Francisco
LIGHTING DESIGNER: Revolver Design, Berkeley, California
PROJECT SIZE: 5,070 square feet
SITE SIZE: .09 acre
CONSTRUCTION COST: Withheld
PHOTOGRAPHY: Matthew Millman Photography
---
Key Products
COOKTOP: Viking
DISHWASHER: Miele
DUMBWAITER: Acme Home Elevators
FAUCETS: Dornbracht, VOLA
FIREPLACE: Montigo
HVAC: Mitsubishi
OVEN: Miele
REFRIGERATORS: Gaggenau, Sub-Zero
ROOFING: Kemper System America
SINKS: Kohler, Blanco
SKYLIGHTS: Glazing Vision
TOILETS: TOTO
TUBS: Kohler, Wetstyle
WASHER/DRYER: Maytag
WINDOWS: NorthStar Woodworks
---
Images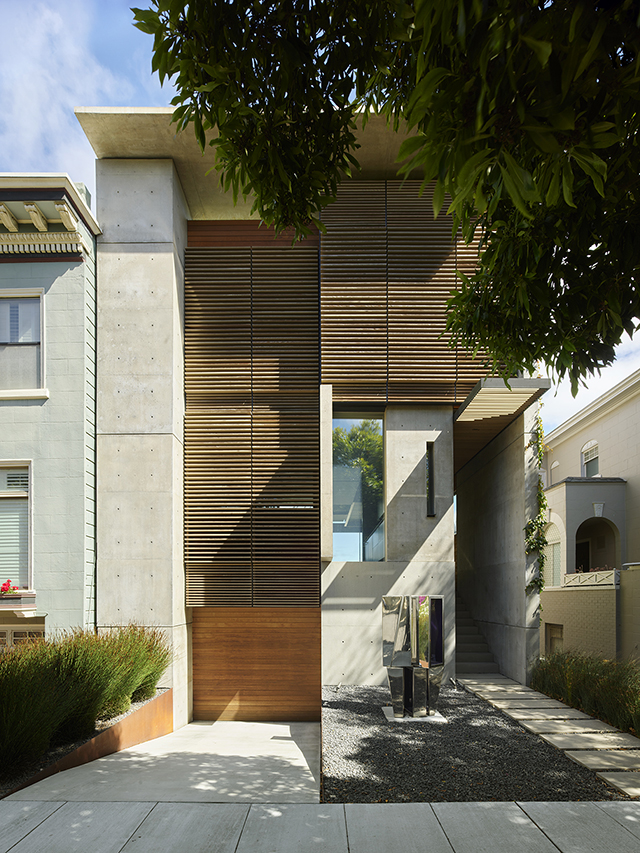 ---
Plans and Drawings