Creativity often arises from difficult constraints, and on this project there were plenty. Asked to design a detached music studio for a professional musician, Campos Studio was presented with a limited budget, a leftover piece of the triangular lot, and an allowable buildable footprint of only 50 square feet. "We chose the worst part of the site, an overgrown dead zone on the side," says Javier Campos.
The team further tightened the structure to 48 square feet so it wouldn't need a building permit. To counter the tiny footprint, they enhanced the space volumetrically. The triangular building expands vertically toward a single, canted skylight that allows light to enter without creating distracting reflections. The client's production equipment sits directly below the skylight, fitted into the narrow part of the triangle.
"The building had to be very nondescript because security was a priority with his equipment," Javier says. "It is blank and quiet, with no windows looking in." Cedar stained on the outside, including the roof, the building has an interior wrapped in plywood, and a folding wood door opens one wall to a new deck. There, a landscaped courtyard and pond occupy the resulting void between the house and studio. Custom gutters simplify the form.
Inspiring, unobtrusive, and secure, the studio is a secret music box. "The little intervention creates this beautiful courtyard garden and has a dialogue with the back of the house," says project designer Czarina Ray.
---
Custom Accessory or Outbuilding
Citation
Campos Studio
The Music Shed
Vancouver, British Columbia
Project Credits
Architect: Javier Campos, principal in charge; Czarina Ray; Jacquelyn Bortolussi, Campos Studio, Vancouver, British Columbia
Builder: Michael Luchenko, M. Luchenko Construction, Vancouver
Interior Designer/Landscape Designer: Campos Studio
Project Size: 48 square feet
Site size: 0.06 acre
Construction Cost: Withheld
Photography: Andrew Latreille
---
Key Products
Cladding: Stained cedar
Doors/Windows: Innotech Windows & Doors
Gutters: Custom steel angle gutter
Millwork/molding: Plywood
Wallboard: Plywood
---
Images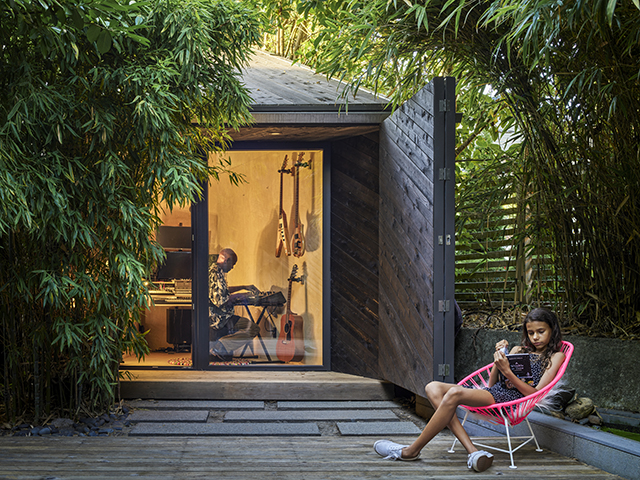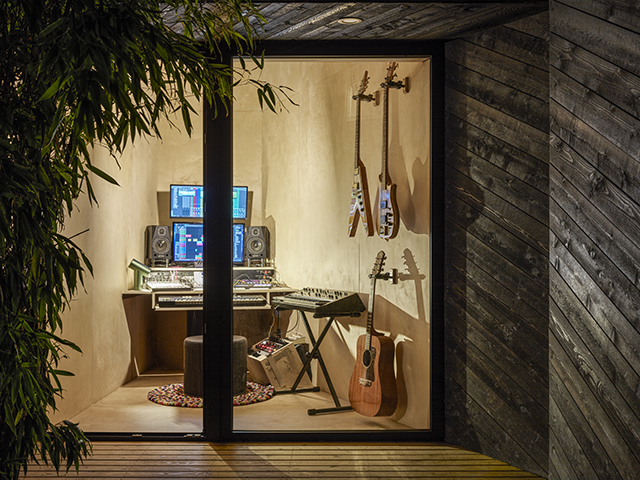 ---
Plans and Drawings