IVRV House nudges the affordable-housing needle forward by making it greener, safer, and smarter. A collaboration between SCI-Arc and Habitat for Humanity, one of its unique characteristics is the secure, 700-square-foot indoor-outdoor entry courtyard, where a striking sky window and folded roofline scoop in northern light. Another is the hardworking "ecoscreen" designed to guard against break-ins, shade the courtyard, capture energy, and clean the air.
"The livability of the house was important," says SCI-Arc professor Darin Johnstone, AIA. "We wanted to provide something safe in a neighborhood where crime is a reality, but also carve out spaces that provide the indoor-outdoor lifestyle of Southern California."
Mounted on the east and west façades, the experimental trellis system consists of black exterior metal panels meant to hold thin-film photovoltaics. The gray middle layer is prefabricated steel, and the inner white layer is made of vinyl strips coated with Ti02, a substance that scrubs pollutants from the air. "The students discovered Ti02 while researching how to make homes that are freeway-adjacent," says Darin.
Habitat for Humanity chose not to install the thin-film photovoltaics, but there are conventional solar panels on the roof, and a greywater system. Sited on a narrow, 32-foot-wide lot, the three-bedroom house is also mindful of summer heat. Portions of the south elevation are tilted to thicken the wall for added insulation and to shade the windows.
"We were able to do quite a lot with a little because of the Habitat model of getting a lot of materials donated and students volunteering their time and labor," Darin says. "The people who live there love and respect the house. I do think it's made an exponential impact."
---
RESIDENTIAL SPECIAL CONSTRAINTS  
Citation
SCI-ARC
IVRV HOUSE
WESTMONT, CALIFORNIA
Project Credits
ARCHITECT: Darin Johnstone, AIA, principal in charge, SCI-Arc, Los Angeles
BUILDER: Habitat for Humanity of Greater Los Angeles
STRUCTURAL ENGINEER: Nous Engineering, Los Angeles
PROJECT SIZE: 1,200 square feet
SITE SIZE: 4,387 square feet
CONSTRUCTION COST: $165 per square foot
PHOTOGRAPHY: Joshua White Photography
---
Key Products
CABINETRY: IKEA SEKTION
CLADDING: HardiePanel
COATINGS: MCH Nano Solutions Gens Nano TiO2 Photocatalyst Coating
ECO-SCREEN: MCH Nano Solutions
HVAC: LG LH367HV indoor heat pump
PAINTS: Valspar Medallion Zero VOC Low Odor interior latex
OTHER STRUCTURAL: Simpson Strong-Wall
STRUCTURAL/WEATHERIZATION/BUILDING PERFORMANCE: Simpson Strong-Wall
WATER HEATER: Takagi T-H3 190,000 BTU Tankless
WINDOWS: Milgard Style Line
---
Images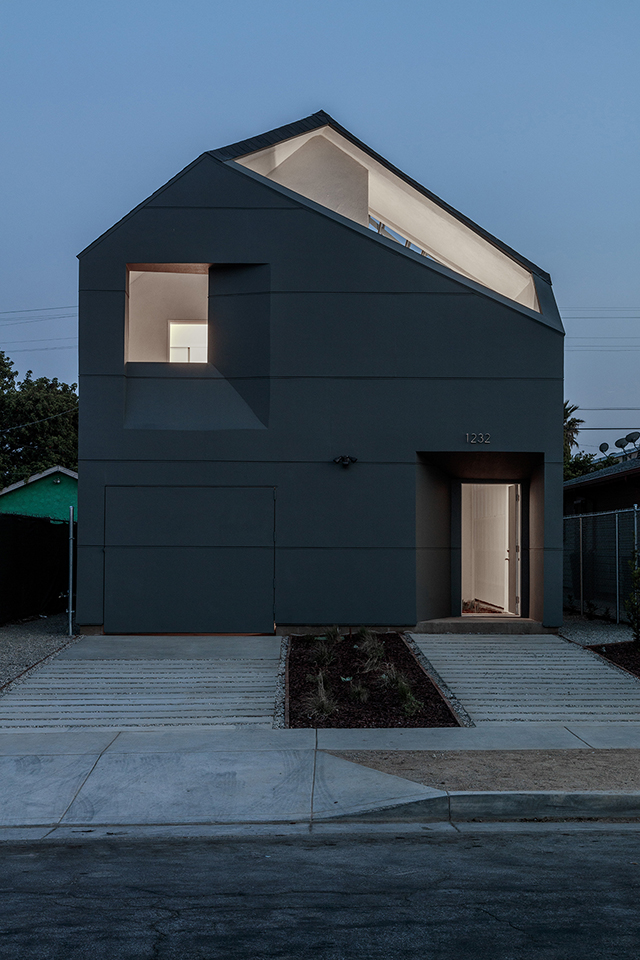 ---
Plans and Drawings