It's not often that the landscape architect brings the design architect to a project, but such was the case with The Sanctuary, which required an artful relationship between the disciplines. The small, deep lot was an overgrown mess, but its proximity to downtown Palo Alto made it worth the team effort between Bernard Trainor's Ground Studio and Feldman Architecture.
"From the first time we stepped on the property, it revealed what it wanted to be," recalls architect Tai Ikegami, AIA, the partner in charge at Feldman. "And whenever we work with Bernard, we challenge each other.
"There was a barely standing shack and a falling down fence, but we walked past an amazing heritage oak tree and discovered a depth to the property—an oasis of an urban garden," he continues. The challenge was to insert a house for empty nesters within the oasis, while preserving its bounty and protecting the maze-like roots of ancient trees. Because the owners are savvy about real estate, the program also tucks in a rental unit over the garage.
The house pulls apart into components to mine choice lot features, hovering above fragile tree roots on a series of piers. Volumes containing the garage and rental unit and the office and secondary bedroom are streetside, while the main entry is along the broad side of the lot. Key rooms—a living/kitchen/dining zone and master suite—orient toward the garden, each engaging a distinct part of the oasis and connecting with it through stepped terraces. "The house is there in service to the landscape," Tai concludes. "It's an instrument to experience these vignettes of courtyard, while feeling protected."
---
CUSTOM URBAN HOUSE  
Citation
Feldman Architecture
The Sanctuary
Palo Alto, California
Project Credits
ARCHITECT/INTERIOR DESIGN: Tai Ikegami, AIA, partner in charge; Kevin Barden, AIA, project architect; Lindsey Theobald, R.A., interior designer, Feldman Architecture, San Francisco
LANDSCAPE ARCHITECT: Bernard Trainor, Ground Studio, Monterey, California
BUILDER: Derek Gray, Bay West Builders, Redwood City, California
CIVIL ENGINEER: Dale Leda, BKF Engineers, Redwood City, California
STRUCTURAL ENGINEER: David Strandberg, Strandberg Engineering, San Francisco
GEOTECHNICAL ENGINEER: Jonathan Fone, P.E., Romig Engineers, San Carlos, California
LIGHTING DESIGNER: Kin Cladas, Kim Cladas Lighting Design, San Francisco
ARBORIST: Michael Young, Urban Tree Management, Los Gatos, California
PROJECT SIZE: 4,289 square feet
SITE SIZE: .25 acre
CONSTRUCTION COST: Withheld
PHOTOGRAPHY: Joe Fletcher Photography
---
Key Products
CABINETRY: Custom cabinets by Mueller Nicholls with plain sliced walnut veneer and Formica plastic laminate finishes (kitchen); custom by Mueller Nicholls with plain sliced walnut veneer finish (bathroom)
CLADDING: Custom clear vertical grain Alaskan yellow cedar siding
COOKTOP: Miele
COUNTERTOPS: Neolith (kitchen)
ENTRY DOORS: AYC veneered center-hung pivot entry door by West Coast Architectural Millwork; Custom flat slab interior door with white oak veneer by Goldengate Door & Window
FAUCETS: KWC (kitchen); Kohler
FLOORING: Custom polished concrete finish by A  Pellizzari Concrete; monarch plank European oak engineered wood flooring
GARAGE DOORS: Wayne Dalton Garage Doors
GARBAGE DISPOSER: InSinkErator
HVAC: HTP
INTERIOR LIGHTING: Tech Element; Edge Lighting; No. 8;  AXO; Cedar & Moss; Vibia; WAC Lighting; LBL
MILLWORK/MOLDING/TRIM: Custom by Mueller Nicholls
PAINTS/STAINS: Benjamin Moore; Cabot
REFRIGERATOR: Liebherr
ROOF WINDOWS: VELUX
ROOFING: Versico Roofing Systems
SINKS: Kohler; Victoria + Albert; Newport Brass and GROHE fittings
TOILET: TOTO
TUB: Victoria + Albert
VENT HOOD: Best
WINDOWS: All Weather Architectural Aluminum
WINDOW WALL SYSTEMS: Western Window Systems
---
Images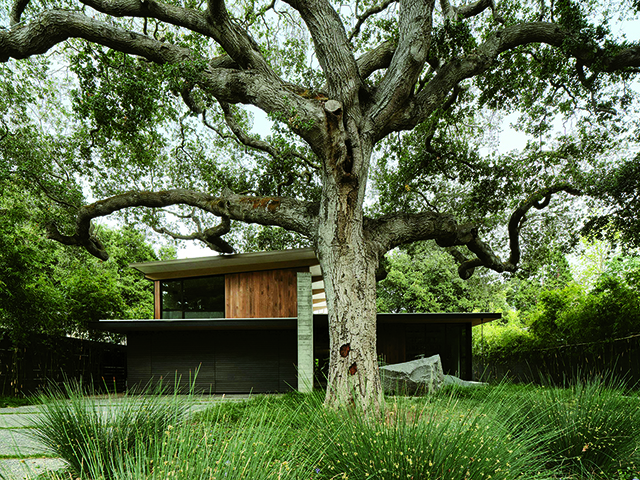 ---
Plans and Drawings