Buildings can accommodate site-specific art in any number of ways, whether the object sits in a designated spot or is embedded in the architecture itself. After several conversations with their artist client, EYRC chose the latter approach. Their design scheme incorporates an art installation that permeates the entire house.
EYRC drew three monolithic structures connected by an upper-level "spectral bridge" that links the first two buildings within a glass atrium, and the rear two buildings by an exterior bridge. In between the bridges is an art lounge, where LED light bars in the floor, walls, and ceiling run on a 24-hour loop synchronized to the time of day over the course of a year. Starting as a low white light, the colors shift through the day, intensifying as daylight diminishes.
"That's what makes it interesting; it's not a piece of art in the architecture but integral to the daily experience of the house," says principal Takashi Yanai, FAIA. The exterior's black Shou Sugi Ban siding and white stucco offer a gallery-like backdrop to the art. "We chose those materials because white is a combination of all colors, and black is absence of all color," Yanai says.
This is place-making at a high level. "I think it's cool how in the bridge you can see your neighbors," he says. "You recognize you're in Venice among these traditional bungalows, you see what time of day it is, and what season you're in. It becomes a way to measure your place in the world."
---
CUSTOM URBAN HOUSE  
Citation
EHRLICH YANAI RHEE CHANEY ARCHITECTS
SPECTRAL BRIDGE HOUSE
VENICE, CALIFORNIA
Project Credits
ARCHITECT: Steven Ehrlich, FAIA, and Takashi Yanai, FAIA, principals in charge, Ehrlich Yanai Rhee Chaney Architects, Culver City, California
BUILDER: Mark Shramek, Shramek Building Company, Huntington Beach, California
INTERIOR DESIGNER/LANDSCAPE DESIGNER: Harriet Bourne, Los Angeles
SITE-SPECIFIC ARTIST: Johannes Girardoni, Johannes Girardoni Studio, Los Angeles, California
PROJECT SIZE: 4,070 square feet
SITE SIZE: 0.12 acre
CONSTRUCTION COST: Withheld
PHOTOGRAPHY: Matthew Millman Photography
---
Key Products
CABINETRY: Blu Bathworks
CABINETRY HARDWARE: Emtek
CLADDING: Delta Millworks Accoya full gator Shou Sugi Ban (exterior walls)
COOKTOP/RANGE/Dishwasher: Miele
COUNTERTOPS: Caesarstone
DOORS/WINDOWS: Nu Vista
FAUCETS: Dornbracht (kitchen. bathrooms)
FINISH MATERIALS: Heath Ceramics
FIREPLACE: Montigo
FLOORING: Concrete (first level); white oak (second level)
GARAGE DOORS: Nu Vista sliding doors (garage)
GARBAGE DISPOSER: InSinkErator
HVAC: LG
INSULATION: Johns Manville standard fiberglass pads
INTERIOR WALLS: Delta Millworks Accoya full gator Shou Sugi Ban
LIGHTING: MKS downlights; Michael Anastassiades pendants
REFRIGERATOR/FREEZER: Sub-Zero
ROOF WINDOWS: Sky-Tech Glazing Systems
SINKS: Kohler, Blu Bathworks, Alape
TOILETS: Duravit
TUBS: Blu Bathworks (master); WetStyle (secondary bathrooms)
WASHER/DRYER: Kenmore
---
Images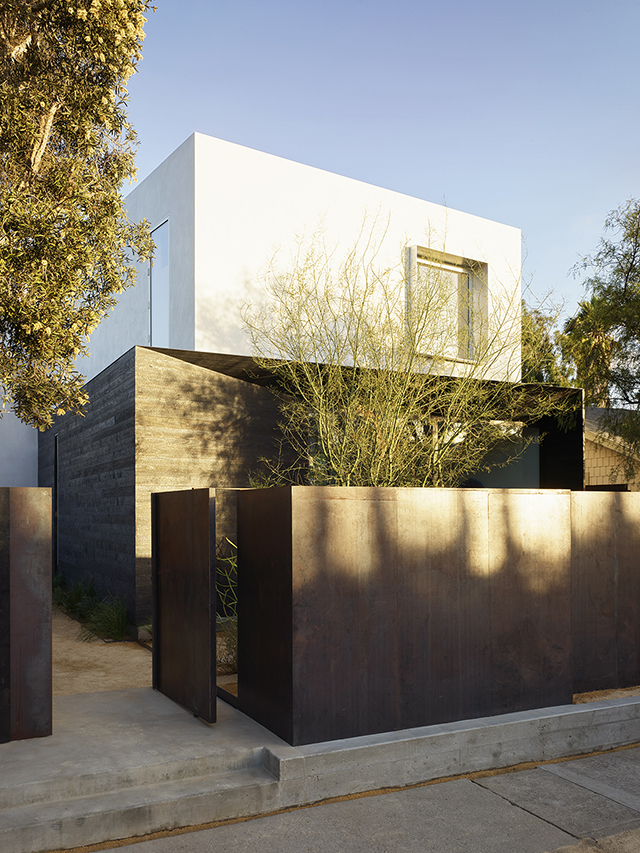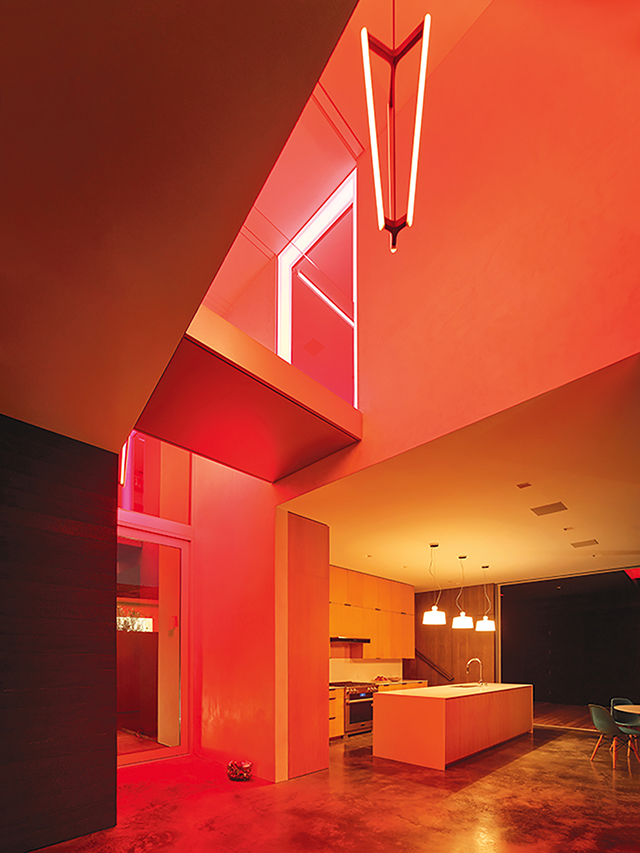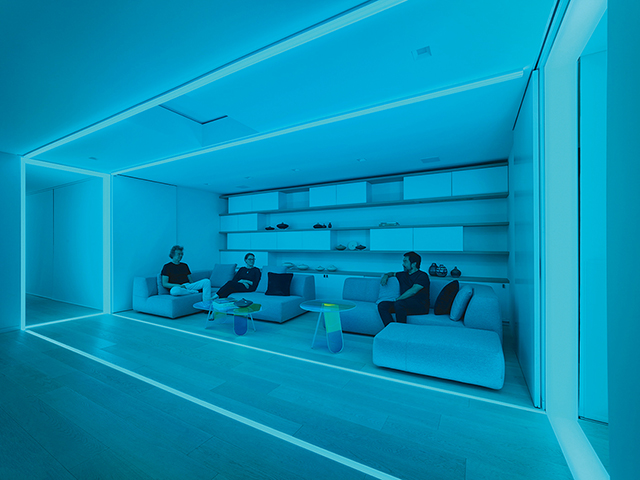 ---
Plans and Drawings