You know you've got a hit on your hands when your veteran architectural photographer exclaims, "I've never seen anything like this!" Our judges were dazzled as well with this delightful modern outbuilding, tucked behind a venerable New England Dutch Colonial.
Its originality derives in part from the highly unusual yet specific program: The client wanted a studio building where he could work on his restorations of Vespa scooters and antique fountain pens—pursuing one in plein air and the other in a protected, conditioned environment.
These requirements, combined with Wellesley's building restrictions, the lot's location on a busy road, and the sloping topography, inspired Flavin Architects' inventive response—a structure that hovers somewhere between concept and completion. Says partner in charge Colin Flavin, AIA, "It's almost unfinished in its reciprocity with nature. There's space for the mind's eye to imagine how it might be enclosed." Project architect Howard Raley, AIA, adds, "The shadows and subtlety of how it all came together is really beautiful."
Ipe decking and mahogany screening elements add warmth and handcraft to the steel frame. The one conditioned space is the office, just under the size limit of historic review. During the pandemic, the clients' progeny came home for a time, and Lantern Studio was electric with activity.
---
Custom Accessory or Outbuilding  
Citation
Flavin Architects
Lantern Studio
Wellesley, Massachusetts
Project Credits
ARCHITECT: Colin Flavin, AIA, principal in charge; Howard Raley, AIA, project architect, Flavin Architects, Boston
BUILDER: Brookes + Hill, Waltham, Massachusetts
LANDSCAPE ARCHITECT: H. Keith Wagner, FASLA, Wagner Hodgson Landscape Architecture, Burlington, Vermont
STRUCTURAL ENGINEER: Webb Structural Services, Reading, Massachusetts
PROJECT SIZE: 2,608 square feet
SITE SIZE: .46 acre
CONSTRUCTION COST: $276 per square foot
PHOTOGRAPHY: Peter Vanderwarker Photography, Nat Rea Photography, Stephanie D. Wallace Photography
PHOTO STYLIST: Sierra Basking, Ennis, Inc., Gloucester, Massachusetts
---
Key Products
CABLE RAIL SYSTEM: Custom galvanized steel railing with Feeney stainless steel cables and attachments (veranda and roof garden)
CLADDING: Stucco (veranda and exterior doors)
DECKING: Ipe hardwood (at steps)
GARAGE DOORS: Garaga, Inc.
ELECTRIC SPACE HEATER: Global Industrial™ Salamander Electric Heater Wall Mount 25′ Power Cord 240V 15KW 1PH 62.5 Amps (garage)
ENTRY DOOR/WINDOWS: Loewen metal clad in graphite (studio)
EXTERIOR LIGHTING: Lumiere Westwood 912-2 black (garage wall sconce); Kube 1765 satin black (veranda surface mount); RAB VX100DG (roof garden beam sconce); Infina by Jesco (LED accent light at stairs, wood screen)
FLOORING: 5-inch rift and quartered white oak (studio)
HVAC: Mitsubishi heat pump (studio)
INSULATION/HOUSEWRAP: Henry Blueskin (studio)
LANDSCAPE PRODUCTS: Bison Innovative Products
LIGHTING CONTROL: Lutron Caseta (studio, garage, roof garden)
MILLWORK/MOLDING: Custom 1½" wide x 2½ deep sapele mahogany (wood screen)
PAINTS/COATINGS: Benjamin Moore, Regal Select, Flat, Winter White OC-21 (studio); Benjamin Moore, Regal Select, Low Lustre, Exotic Red 2086-10 (garage door ); Benjamin Moore, Regal Select, Low Lustre, Racoon Fur 2126-20 (all trim); Benjamin Moore, Regal Select, Flat, Feather Gray 2127-60 (stucco); Tnemec, Series 94-H20 Hydro-Zinc paint in No. 2 Pencil (structural steel); Penofin Red Label Finish, Clear (wood screens)
PAVERS: Granite, Blue Mist (pavers and steps)
OTHER EXTERIOR: Bison Innovative Products pedestal system with ipe 1 x 4 boards (veranda and roof garden)
OTHER STRUCTURAL/WEATHERIZATION/BUILDING PERFORMANCE: Custom lead-coated copper flashing, soldered joints
ROOF PLANTERS: Bison Innovative Products aluminum cube planters, oxidized zinc patina (roof garden)
ROOFING: Semco Southeastern Metals; Galvalume (carport)
SHADES: Lutron Basketweave 90 charcoal gray
THERMAL AND MOISTURE BARRIERS: Closed cell foam (studio envelope); Kemper System epoxy waterproof membrane (studio and roof garden floors)
TRIM: Boral TruExterior
UNDERLAYMENT/SHEATHING: ½-inch Durock (studio and roof garden floors)
---
Images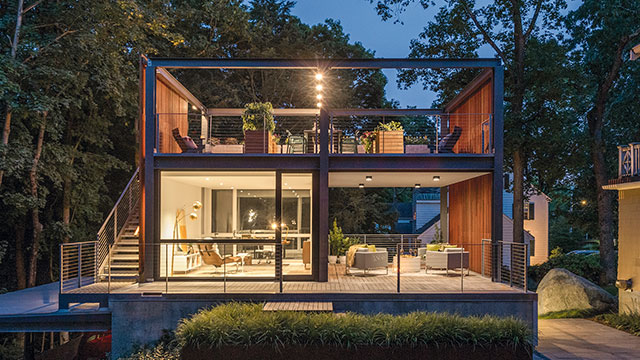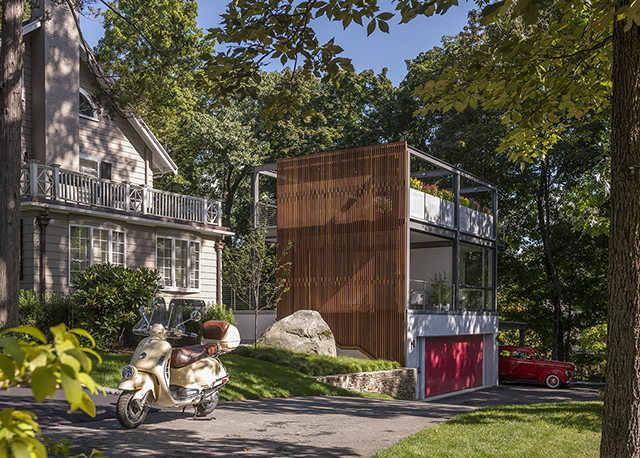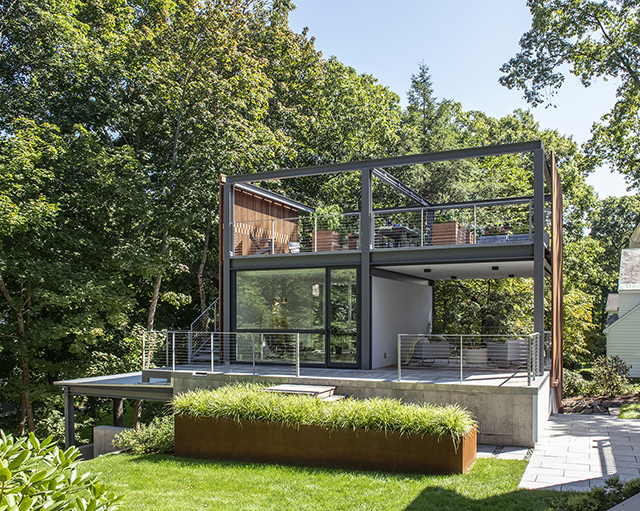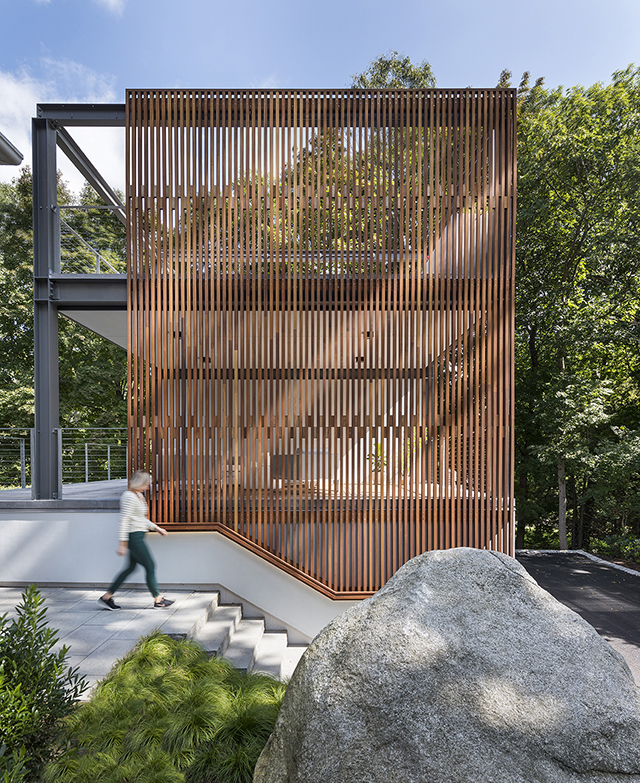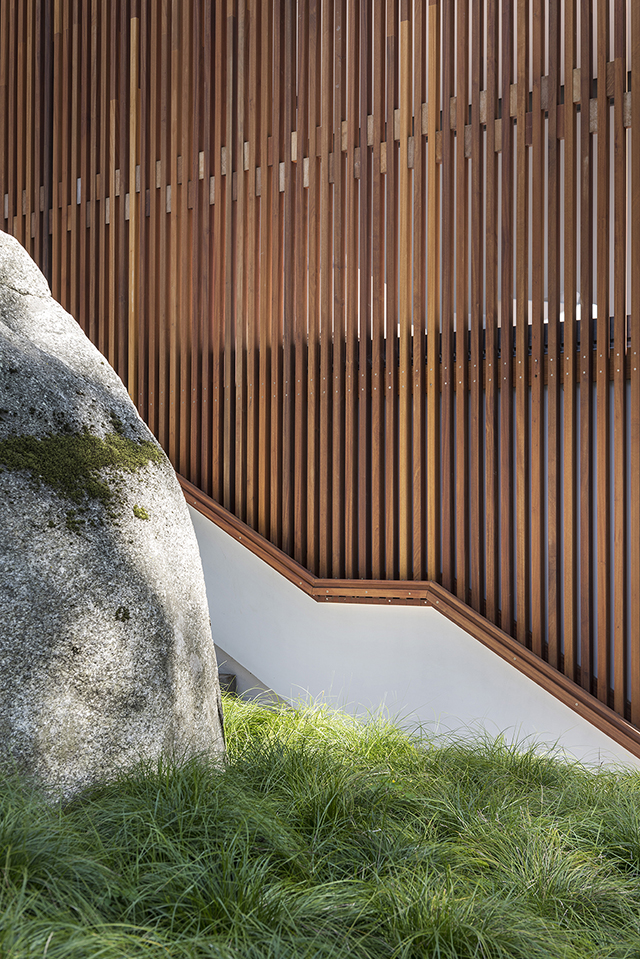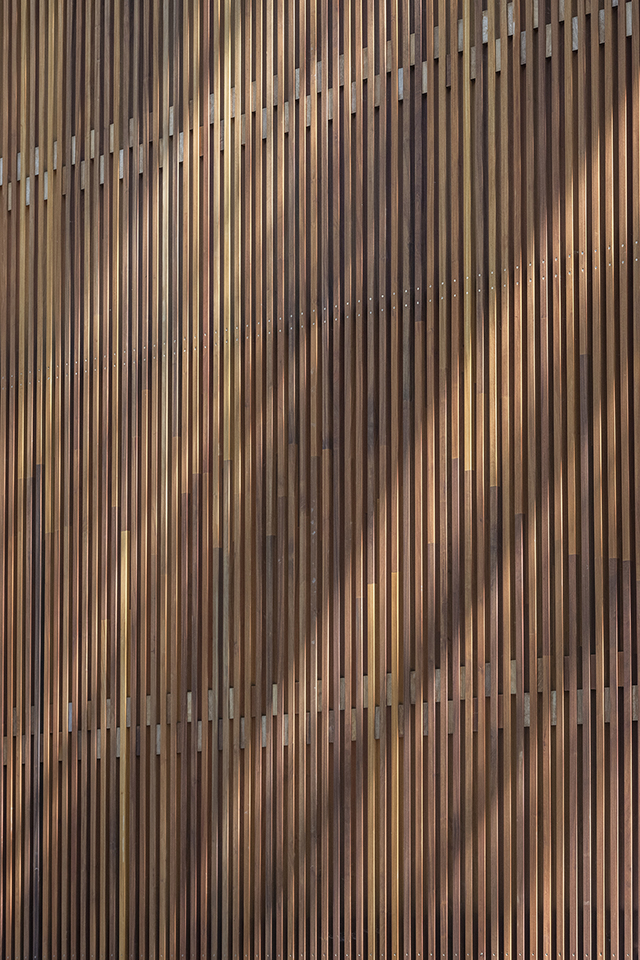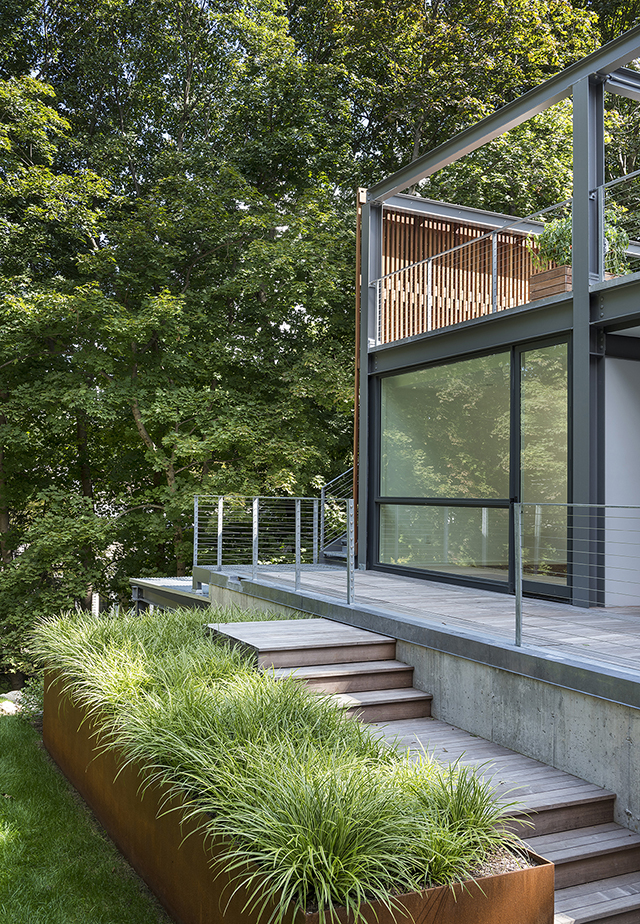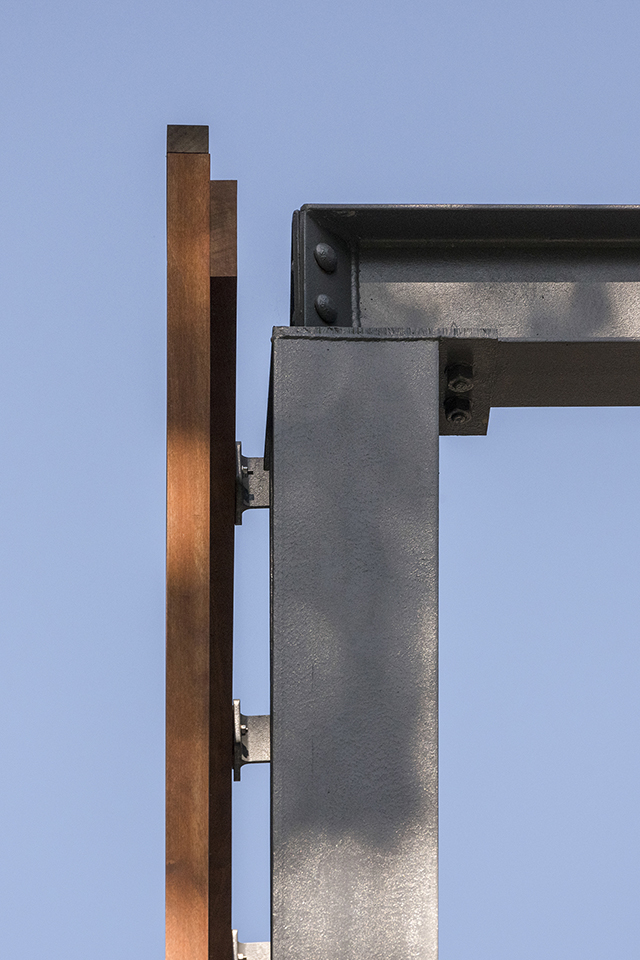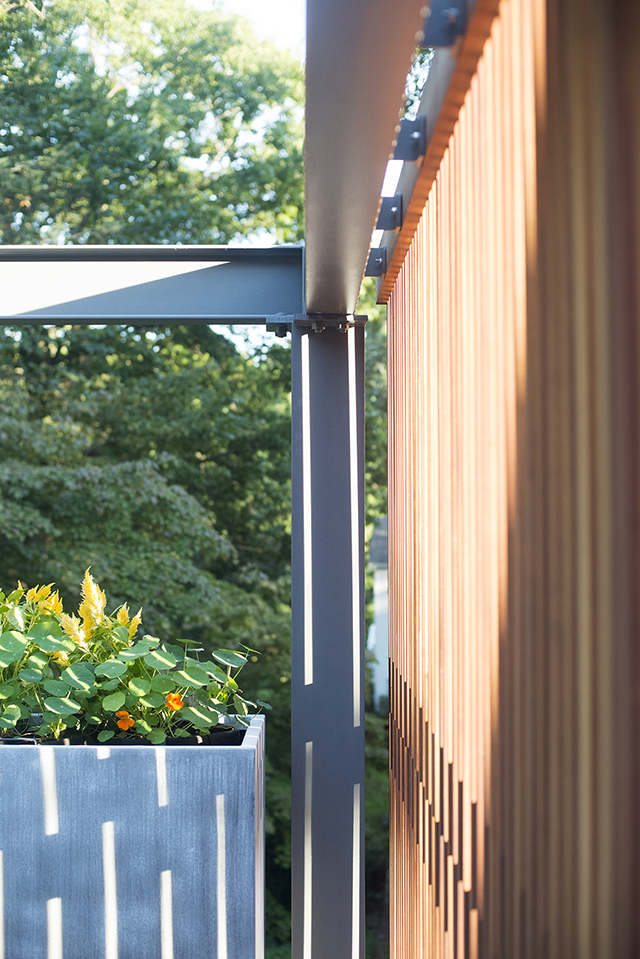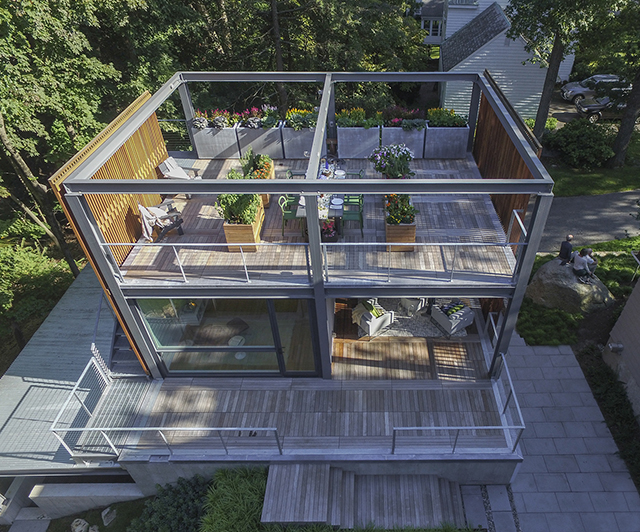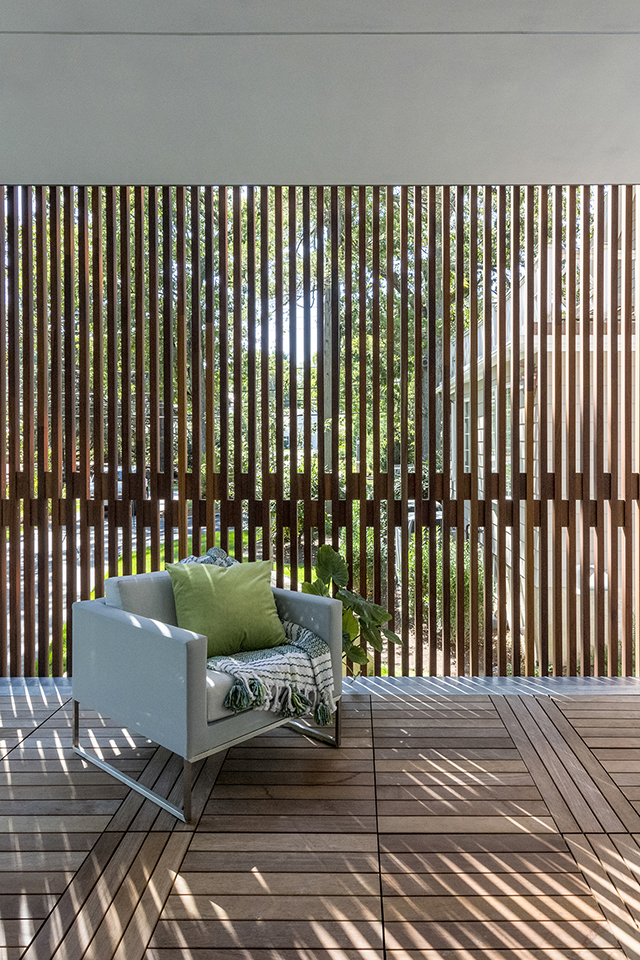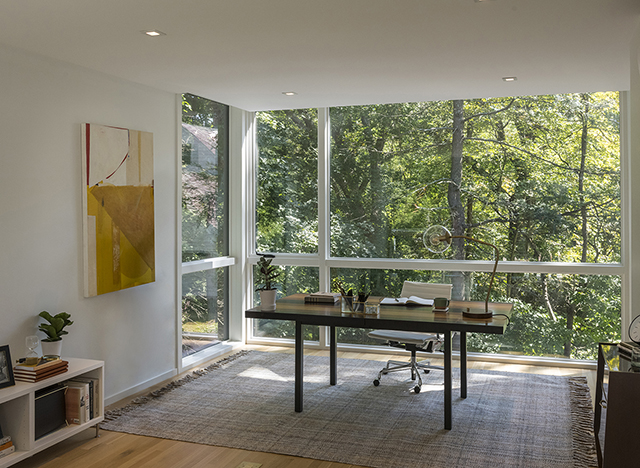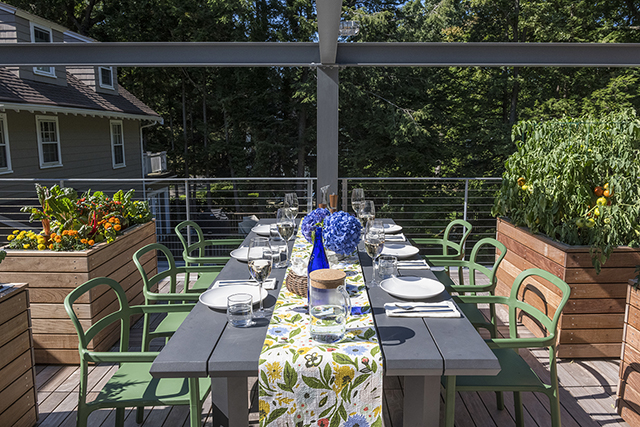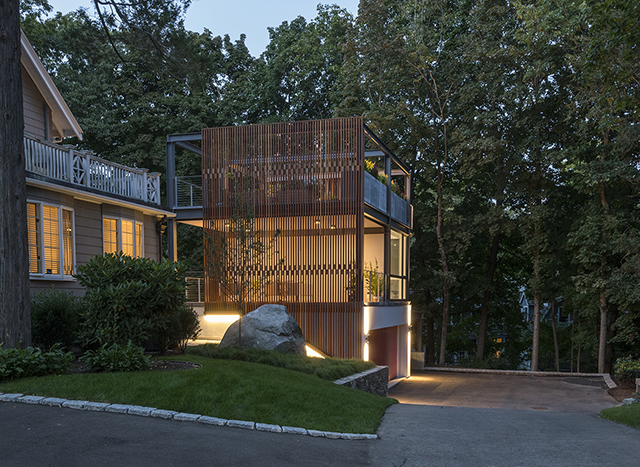 ---
Plans and Drawings